Lo Nuevo
[hide]
Fotos Del Día
[hide]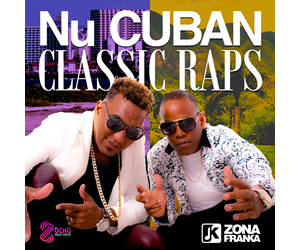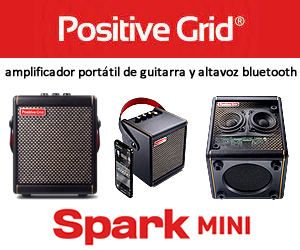 Curuye in L.A. - Los Angeles Timba Report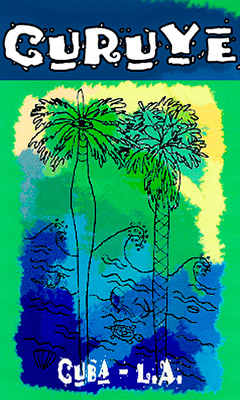 April 9, 2021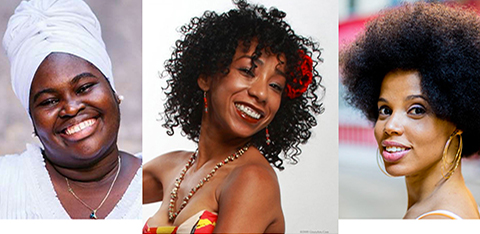 Dayme Arocena, Kati Hernández, & Melvis Santa
on line live for
KATI HERNÁNDEZ's CUBAN MUSIC & DANCE PROGRAM
Saturday & Sunday, April 10 & 11, 2021
DAYMÉ AROCENA, and MELVIS SANTA will be featured live on line this weekend in two different classes, thanks to Los Angeles-based Cuban dancer Kati Hernández, director of Kimbámbula dance ensemble, and the power behind a series of on line Cuban dance and music classes that has been dubbed by a growing number of students around the globe as a "virtual university of Cuban arts!"
DAYMÉ AROCENA, composer singer, arranger, internationally feted jazz artist, will be speaking on Saturday, April 10 at 12:45 pm (Pacific Time) to the Con Clave: Musicality for Dancers class, a class that incidentally, and understandably, has attracted as many musicians as dancers over this last year.
MELVIS SANTA, musician, song writer, singer (Interactivo, Sexto Sentido...) has become a regular bright spot in Kati's program speaking to and leading lectures on Cuban music in the Musicality for Dancers class, as well as periodically teaching Afro Cuban song. This Sunday, April 11 at 11 am (Pacific Time) Melvis will be leading the Afro Cuban song class.
To sign up for these special guest classes ($15/class), as wel as Kati's dance classes, and to peruse the over 60 classes/month that Kati's program offers (including not only musicality, for dancers, Afro Cuban song, popular and Afro Cuban dance classes, but percussion workshops as well), visit www.katicubandanceonline.com.
---
Watch for Curuye LA's upcoming interview with Kati Hernández, here on Timba.com
+++
June 2, 2017
ALBERT TORRES & LA MÚSICA CUBANA in L.A.
A chapter of Los Angeles Latin Music History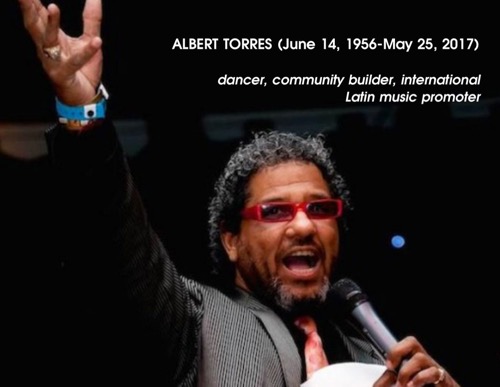 It was a Monday night, yet the ballroom of the Sportsmen's Lodge in North Hollywood was filling up. Well dressed Latin music fans claimed their tables. The room was ripe with excitement. Double nominee ISSAC DELGADO had flown to the U.S. for the 2nd Annual Latin Grammy Awards ceremony to take place at L.A's Shrine Auditorium the next day, and Albert Torres didn't want L.A. to miss out on the opportunity to see Issac perform live. Torres managed to put together this event pretty much on the fly. When Torres brought his featured guest on stage, the packed house gave Issac a raucous welcome. Issac announced his surprise guest! HAILA MONPIE who had come along for his U.S. tour! The excitement was amplified because in addition to being the eve of the Latin Grammy Awards ceremony, other Cuban musicians--from the island---were nominated, and invited to attend. Guest Cuban nominees in the audience at Torres's event that night included LÁZARO ROS, the legendary akpwon of the Conjunto Folklórico Nacional de Cuba, nominated for his recording of Yoruba cantos, YEMAYÁ, members of Los MUÑEQUITOS DE MATANZAS representing the All Stars of Rumba Cubana who participated on LA RUMBA SOY YO recording (that ultimately won a Latin Grammy), along with the recording's producer CARY DIEZ. And do you think these Cuban artists watched Issac from their seats? What do you think? Qué va! Imagínense como se puso! Lázaro Ros, members of Los Muñequitos, Issac, Haila all on stage: Cantos Yoruba! Rumba! Son! All at its very best! What a night!
Just three weeks prior, the location of that 2001 Latin Grammy Awards ceremony was changed from Miami due to a planned massive demonstration by Cuban exiles who protested the nominations and participation of Cuban nationals (which included not only Issac, Lázaro Ros, and Los Muñequitos, but Chucho Valdés, Omara Portuondo, and Celina González as well). After much consideration, the Recording Academy's CEO Michael Greene declared, "The Recording Academy understands that some people in Miami hold strong and heartfelt views about the inclusion of Cuban national nominees resulting from the Latin Grammy voting process ... and while we support everyone's right to express individual views, our mission is to celebrate excellence in all recorded Latin music regardless of who produces it." The fact that L.A. rose to the occasion to host the awards ceremony on such short notice, and that Albert Torres arranged this pre ceremony concert made the evening quite a jubilant celebration.
The next morning, day of the Latin Grammy Awards, September 11, 2001, tragedy struck in New York, Pennsylvania, Washington D.C. The country was on alert, and in mourning. Events were canceled across the U.S., including in L.A. Air transportation was canceled in, to, and from the U.S. Cuban nationals were called back to their country. Word has it that Albert Torres personally saw that Issac and company got quickly and safely back to the island via Mexico.
Some people have told me they thought Albert Torres only promoted Nuyorican/Puerto Rican and commercial salsa sounds, Hey! He was a dancer who loved all good music that inspired him to dance! He knew the roots of Latin dance music, and had a tremendous appreciation of Cuban music: from traditional to contemporary, and yes! TIMBA! And he proved that to L.A. in a big way.
Torres was the first to bring a contemporary dance band from Cuba LOS VAN VAN (no less!), to California, at a time that it wasn't a very popular thing to do, a risky project at best. That was back in 1997. Their first stop was San Francisco's Maritime Hall to which many of us diehard So Cal Cuban music fans traveled.The hall was filled to capacity, the atmosphere electric. I remember the dj was Greg Landau's son who amped up the crowd with the great Cuban dance music he played, and even projected marvelous Cuba scenes on the ceiling of the venue. Then LOS VAN VAN conquered L.A., giving a concert at The Grand, a ballroom filled to capacity in downtown L.A,. but with yes, demonstrations outside.
And Torres continued to bring amazing Cuban groups to Los Angeles, before and into the new millennium that included: LOS VAN VAN, BAMBOLEO, DAVID CALZADO Y LA CHARANGA HABANERA, NG LA BANDA, MANOLITO Y SU TRABUCO, ADALBERTO ÁLVAREZ Y SU SON, PUPY Y LOS QUE SON SON, ISSAC DELGADO, MARACA, ORQUESTA ARAGÓN, SEPTETO NACIONAL, ANACAONA, SIERRA MAESTRA ...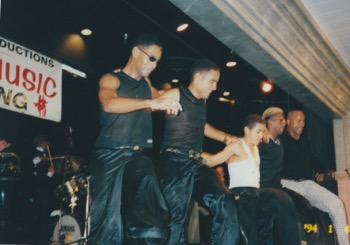 Before Albert took off to live his life dream of building "unity through salsa" through organizing salsa congresses around the world, he had local weekly salsa parties around Los Angeles. When some partygoers complained that they didn't want the dj to play timba ("too complicated and fast to dance to" they charged), Torres rented an additional room at the venue, called it "The TIMBA ROOM", and put Cuban DJ SAOCO (Vicente Lantigua) in charge! His concerts of ORQUESTA ARAGÓN were the best: Albert would sing along with the music he had grown up with, and brought together the L.A. Latino community that knew every song. It was more than apparent Aragón musicians were inspired playing for his audiences.
ALBERT! GRACIAS! for the memories of reunions/parties/events with the most marvelous soundtracks! and the chance to experience live so many of my favorite Cuban music groups, right here in my hometown, as well as unforgettable concerts of EL GRAN COMBO de PUERTO RICO, PAPO LUCCA y LA SONORA PONCEÑA, OSCAR d' LEÓN, ... too many groups to name.
Thanks for always saving for me that second table, stage-right at all the Cuban concerts. My daughter (huge Charanga Habanera fan!) and I will always remember when you brought David Calzado y La Charanga Habanera back for a second L.A. concert in 2000 that happened to fall on her birthday. You had printed at the top of your flyers and announcements for the event, "From Cuba: "DAVID CALZADO y LA CHARANGA HABANERA on Gabriela Torres's Birthday! (Kay's daughter)", fully knowing few people had a clue who Gabriela Torres OR Kay were! Qué detalle más apreciado!
I'm glad you had such joyous success traveling the world 'creating unity through salsa', living and sharing your passions of Latin music and dance in the largest way. I imagine you dancing and singing your advice to us with that Manny Oquendo y Conjunto Libre coro:
"Goza la vida, como hago yo! Goza la vida, como hago yo! GÓZALA!"
Friends and family will CELEBRATE ALBERT TORRES's LIFE on Saturday, June 24, 10 AM with a service at Agape International Spiritual Center, 5700 Buckingham Parkway, Culver City 90230.

+++
July 29, 2016
You're invited to ...
1st Annual SAN DIEGO CUBAN DANCE CONGRESS!
OCTOBER 13-16, 2016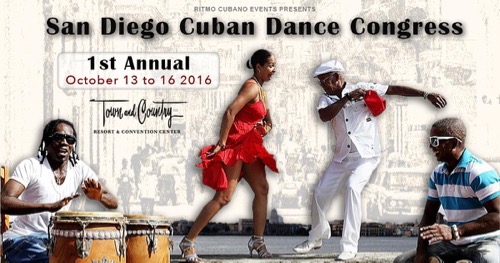 OCTOBER 13-16 this year SAN DIEGO, California will be THE U.S.TIMBA & CUBAN DANCE and MUSIC HOTSPOT with the kickoff of the 1st Annual SAN DIEGO CUBAN DANCE CONGRESS featuring one of Cuba's favorite dance bands, MAYKEL BLANCO y SU SALSA MAYOR (!), Los Angeles-based timba band RUMBANKETE, and esteemed instructors of CUBAN DANCE teaching over 75 workshops: from RUMBA to SON, CASINO, RUEDA de CASINO, CUBAN REGGAETÓN, as well as popular and sacred dances of CUBA's AFRICAN LEGACY, so inherent to all Cuban popular dances.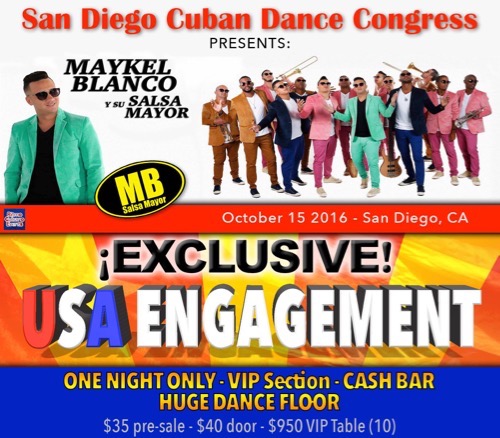 Some of Cuba's best dancers now residing in the U.S., including dance professionals KATI HERNÁNDEZ, JUAN CARLOS BLANCO, ROBERTO BORRELL, SILFREDO LA O, ROYLAND LOBATO, WILFREDO GUILBIAC, REINIER VALDÉS will be teaching, REINIER FERNÁNDEZ ARMESTO from Mexico City, in addition to RYAN MEAD & SIDNEY WEAVERLING, DUANE WRENN, JULIÁN MEJÍA, MARITZA BAÍDA, LUDIS BENÍTEZ, ALEX RUÍZ, and many other popular Cuban dance instructors from across the country. Los Angeles's DEEJAY WARAPO, and the Bay Area's ever popular DJ WALT DIGZ keep the dance floors smoking throughout the weekend.
Sightseeing around this world class city has been worked into the congress's activities with a TIMBA MOB BUS TOUR, and a TIMBA BOAT DANCE PARTY scheduled, with DJs spinning the best of Cuban dance music on board!
San Diego makes this congress a particularly appealing event. October San Diego temperatures average mid 70s to low 80s. I've heard the TOWN & COUNTRY RESORT is off the hook, upscale, relaxing, with large salons for dance classes, performances, and dance parties! The resort is offering an attractive discount for congress participants.
"I wanted to bring the Cuban dance community together, and to have the world appreciate the music and dance we love so much. I felt it was an opportune time with the growing interest in Cuba, now with reestablished relations between Cuba and the U.S. ... and what better place than San Diego?!" expressed ROI BRIGNAC, the founder and head of RITMO CUBANO EVENTS LLC who moved forward on this dream. Brignac found that fellow San Diegan, casinera/life-long dancer ROCIO MONTELONGO shared the same passion, and their association, along with the support and iput of the Southern California Cuban dance community, have brought the SAN DIEGO CUBAN DANCE CONGRESS to reality.
Get complete information from their extemely thorough website where you can look over the schedule, info on the instructors, special activities, performance requirements, hotel info, description of passes available, and to register! Check it out: www.cubandancecongress.com.
SPREAD THE WORD to CASINEROS ACROSS THE COUNTRY TO COME PARTY & DANCE 'A LO CUBANO' at the 1st ANNUAL SAN DIEGO CUBAN DANCE CONGRESS!
+++
February 8, 2015
The PALO! EFFECT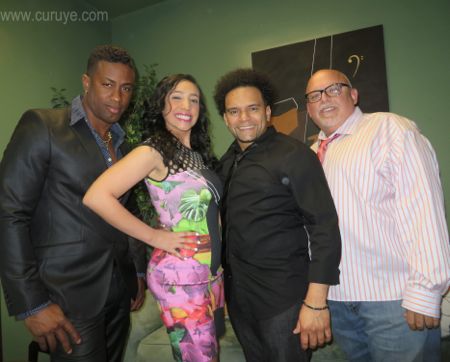 PALO! Grammy contenders for BEST TROPICAL LATIN ALBUM came back to conquer L.A. Friday night at Catalina's Jazz Club in Hollywood.
In L.A. the buzz was on, not only because of this year's Grammy nomination for their PALO! LIVE cd, and for having been nominated for a Latin Grammy last year, but everyone who caught their first L.A. show some months ago were back with una pila de amigos in tow. Catalina was packed to capacity.
The audience was as eclectic as the band's music. Afro-Cuban Funk is how they describe their music, but let's not pigeonhole the group. Afro-Cuban, yes. Funky, yes. Jazzy...yes. Timba-ish, yes. All that and more. The band is tight, but not without delicious improvisation. "I really liked the group because it was not predictable. The musicians are great, and the spontaneity they project added to the band's flavor," was one comment. I heard. This time I observed more Cubans in the audience, along with industry types, dancers, musicians. PALO!'s high energy was reflected back by the audience's open appreciation, which in turn fueled the musicians , you know, 'a lo cubano.' Catalina's has little area to express oneself dancing, but by the end of this evening, every little space, every little hueco between tables had people dancing a su manera...Rueda de Casino, "L.A. salsa," despelote, and one inspired young man sambando three songs straight. I'll call it THE PALO! EFFECT.
Producer/director/pianist Steve Roitstein (Celia Cruz, Oscar D'Leeon, etc) writes most of the music with the talented and tireless vocalist Leslie Cartaya.The tremendous rhythm section includes Philbert Armenteros (Yerba Buena) on congas, and Raymer Olalde on timbales (Habana Ensemble, Tiempo Libre, Oscar D León). Alas the fifth musician of the group, the dynamo saxophonist Ed Calle, had another gig Friday night, with Arturo Sandoval. (Calle's sax with that rhythm section makes PALO!'s music oh-so-funky!) Rick Keller did a sufficient job filling in for Calle for this concert.
PALO! performed one long set which allowed the energy to build. They played about nine tunes, mostly from their Grammy/Latin Grammy nominated cd. A few of many of the evening's favorites include LENGUA LARGA; CAMINA POR LOS CODOS; Philbert and Raymar in a percussion mano a mano (DALE PALO). Also, PA' CHANGÓ gave us a chance to hear Philbert doing some nice vocals with Leslie. Hopefully there will be more of this vocal collaboration in the future.
Roitstein kept the evening moving with quick, sly English intros to the songs (many of which have colorful lyrics, i.e. LA MALANGA RESBALA) for the non Spanish-speakers in the audience, and filled in the new West Coast audience with the group's background without interrupting the flow of the show.
What's next? The band hopes to go on an expanded tour to share en vivo the music from their acclaimed cd with new audiences across the country ... and yes! always developing new music!
May THE PALO! EFFECT reach your city soon!
+++
June 19, 2014
SUMMER CONCERTS in L.A. JUNE JULY
YORDAMIS MEGRET:CUBAN DIVAS - ISAAC DELGADO w TIMBALIVE -
ALEXANDER ABREU & HAVANA d' PRIMERA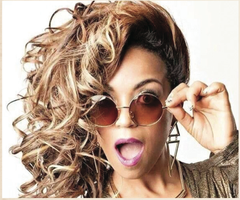 SUNDAY, JUNE 22, 4 PM & 6 PM: MUSICAL TRIBUTE TO CUBAN DIVAS: CELIA CRUZ, LA LUPE, CELESTE MENDOZA, GRACIELA with the WEST COAST SALSA ORCHESTRA. featuring vocalist YORDAMIS MEGRET (oh yes! how we remember her from BAMBOLEO days!). YAMBÚ PRODUCTIONS (GUIDO YANCE-HERRERA) in conjunction with The MUSEUM of LATIN AMERICAN ART (MOLAA). Members: $35 reserved seating; $25 standing. Non-Members $40 reserved seating; $30 standing. Tix: molaa.org. MOLAA, 628 Alamitos Ave., Long Beach 90802.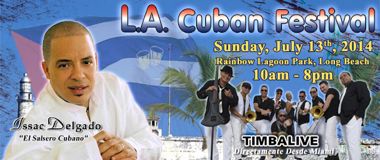 SUNDAY, JULY 13, 10 AM-8 PM: ISSAC DELGADO with TIMBALIVE headline the L.A. CUBAN FESTIVAL! LA CHARANGA CUBANA, under EDGAR HERNÁNDEZ's direction will also be performing at this outdoor fest with DJs WARAPO & ROBBY spinning between live sets. Cuban food, family fun at RAINBOW LAGOON PARK (across from Shoreline Village),Long Beach. $30 online advanced tix, or $45 VIP at fiestalegre.net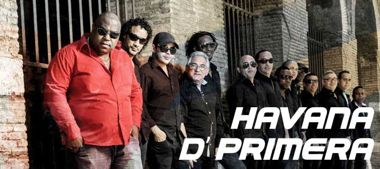 THURSDAY, JULY 31, From Cuba! ALEXANDER ABREU & HAVANA d' PRIMERA back in L.A. and this time at The CONGA ROOM where they gave their first L.A. performance . It's been about one year that they were here last--in a venue so sad that many Angelinos fled up north to hear HDP's concerts at Yoshi's the weekend after. Thank goodness they're giving L.A. another chance! $25 general admission, and you can save yourself the service charge by using CURUYE as the promo code when purchasing tix online congaroom.com.Doors open at 9 PM.
+++
November 15, 2013
L.A. is perking up for the holiday season with two upcoming concerts ...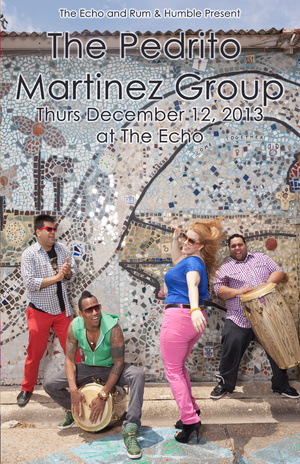 THURSDAY, DECEMBER 12: The PEDRO MARTÍNEZ GROUP making their Los Angeles debut at The ECHO, 1822 Sunset Blvd.. Los Angeles 90026. Tix $15 & $17: http://www.theecho.com/event/397717-pedrito-martinez-group-los-angeles/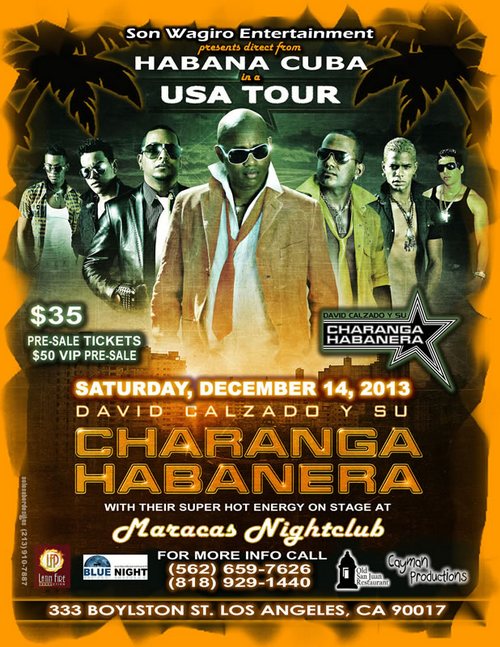 SATURDAY, DECEMBER 14, DAVID CALZADO y LA CHARANGA HABANERA perform at MARACAS NIGHTCLUB, 333 Boylston Ave., Los Angeles 90033. Tix $35 general, $50 VIP pre sale. A SON WAGIRO event.
+++
October 24, 2013: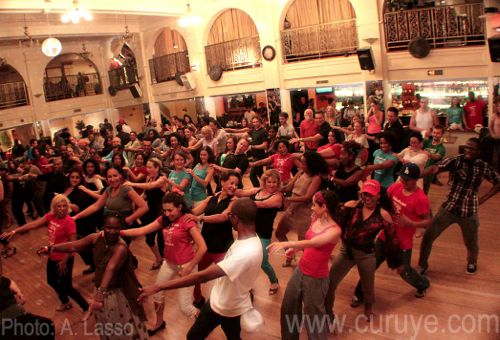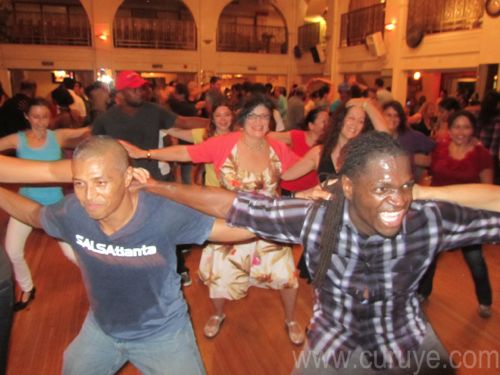 SOUTHERN CALIFORNIAN TIMBEROS ARE ALIVE, WELLL, & DANCING!... MAKING A BIG SHOW @ CURUYE.COM's 10 YEAR ANNIVERSARY CELEBRATION, & DJ SAOCO's QUINCEAÑERA of SPINNING CUBAN DANCE MUSIC in L.A. ...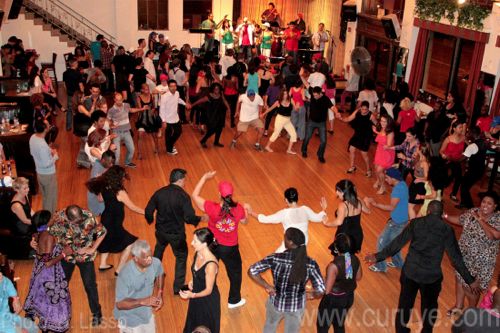 TIMBA, YES, is ALIVE & WELL IN SOUTHERN CALIFORNIA as proven by the timberos packing the Main Ballroom of The GRANADA LA on October 13. The occasion? CURUYE.COM's TRIPLE ANNIVERSARY CUBAN DANCE PARTY: Ten years of the Cuba-L.A. cultural website CURUYE.COM, four years of CURUYE's CUBAN DANCE PARTIES, and DJ SAOCO's (VICENTE LANTIGUA) QUINCEAÑERA--yes! 15 years of spinning contemporary CUBAN DANCE MUSIC for the dancers and Cuban music lovers of Southern California!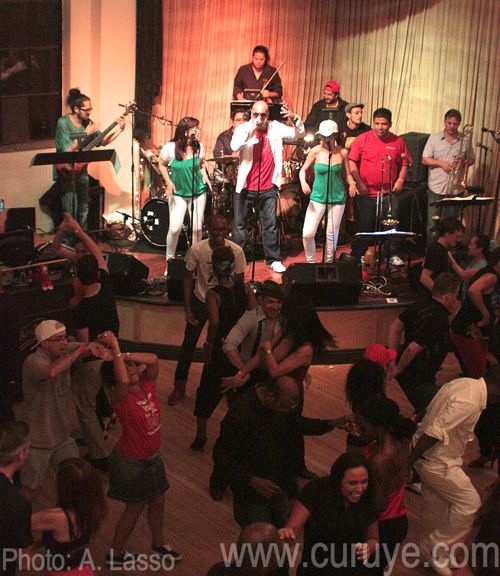 RUMBANKETE, L.A.'s favorite timba band, rocked the house, playing some kickin'new songs by GONZALO CHOMAT and IRIS SANDRA CEPEDA that kept the dance floor smokin'!. No one seemed to be able to resist Cuban dancer KATI HERNÁNDEZ's AFRO TIMBA lines, and the RUEDAS de CASINO were huge! We had timberos driving up two hours north from San Diego, down south from Santa Clarita, and we even had timberos from Atlanta, Portland, Eugene, Seattle, and Phoenix join in on the fun!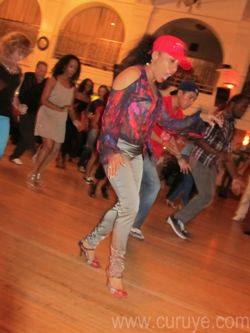 KUDOS and FELICIDADES DJ SAOCO! SAOCO has been tirelessly spinning our favorite dance music through good times and bad. All the Cuban music lovers and dancers who over the years have ever reentered a club after saying goodbye because SAOCO would play their favorite song came by to pay this man respect! He made the venue ZABUMBA synonymous with TIMBA, and Tuesdays at the KING KING the hot spot in Hollywood. Now SAOCO keeps CURUYE's parties alive and happenin'. To get a better idea of his 'naipe natural,' and why 'no se parece a nadie', read the 2006 Latin Beat article about him: http://www.latinpulsemusic.com/articles/show/25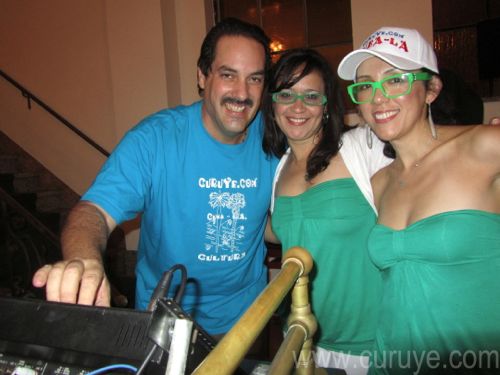 It was joyous to see the timba community present, and growing in Southern California!...And that even being challenged by traveling the 405, the 5 or 101 freeways, timberos will show up in full force! Now...we're just waiting for a Cuban band to make a Southern California stop.
(If you're in L.A, Curuye's Cuban Dance Parites with DJ SAOCO are usually the second Sunday of the month @ The GRANADA LA, 17 So. First St., Alhambra, CA., but check www.curuye.com to make sure! Next party is scheduled for Sunday, November 10, 5-10 PM)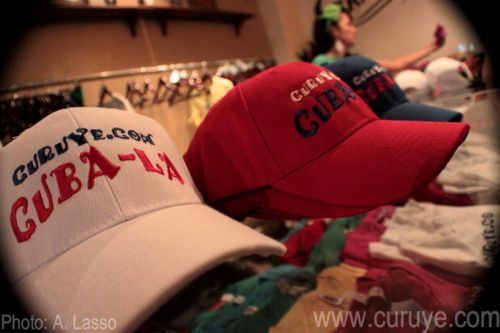 +++
June 1, 2013:
L.A. HAPPENINGS: ALEXANDER ABREU & HAVANA d' PRIMERA! MAYIMBE SCHEDULED FOR L.A.! ARSENIO RODRÍGUEZ PROJECT @ MOLAA! ...
ALEXANDER ABREU & HAVANA d' PRIMERA @ LOS GLOBOS - THURSDAY MAY 30 2013
LEVANTE LA MANO LA GENTE QUE SON DE PRIMERA!
ALEXANDER ABREU and HAVANA d' PRIMERA definitely has their Southern California gente judging by the number of hands waving as the curtains revealed the band at LOS GLOBOS, a club just west of downtown L.A.
It was a late afternooon on the day of the concert when the group arrived in L.A. after a lengthy bus trek from Folsom in northern California. Late arrival and set up of some of the instruments and sound equipment caused a considerable delay in the L.A. concert start time.
A rousing PA' MI GENTE kicked of the evening at almost midnight, followed by a half a dozen more songs from their PASAPORTE cd. This album won, just a few weeks ago, this year's coveted CUBADISCO (read 'Cuban Grammy') for Best Popular Dance Music recording (always a particulary tough category in Cuba!). LA BAILARINA, a song that HDP introduced on their last tour, was a particular crowd favorite. Another hit of the night was ROSA LA PELIGROSA, a new song making its U.S. debut on this tour. After an hour and fifteen minutes of energy and artistry, ABREU and HDP closed the concert playing an extended, super pumped up version of EL QUE SABE ESTÁ CALLAO... RIIIICO! But no encore tonight. ABREU and the band gave their all, but the day's travels and concert delays must have been exhausting for them. Sadly ABREU never touched his trumpet during this concert. Deejay WARAPO kept the audience sane, dancing and upbeat during the long preconcert wait.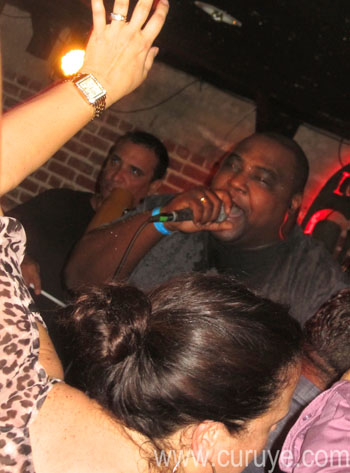 It's the first time a big name group from Cuba has played this recently renovated Latin venue. . The sound was so so. The performance space was packed for HDP, I would guess over its 350 capacity. The small, low-ceiling space became quite a sauna, but offered a cozy (some say 'too cozy'?) alternative to the Conga Room. With the low, narrow stage it was distressing to be so limited in viewing these great musicians perform their craft. (the posted photo depicts that limited view!).
Since San Fran is having no less than four HDP concerts this weekend, I'll leave it up to KEVIN MOORE to give you more insights on the band in his report.
+++
MAYIMBE in LOS ANGELES FRIDAY JUNE 28!
YES! BÁRBARO FINES y su ORQUESTA MAYIMBE WILL MAKE IT TO L.A.! The concert has been announced for FRIDAY JUNE 28! Thank you LIMA LIMÓN ENTERTAINMENT and POINTSUR PRODUCTIONS for bringing them to Hollywood's FLORENTINE GARDENS. Advance sale tix are $30 general admission, $50 VIP, and are available on http://www.ticketon.com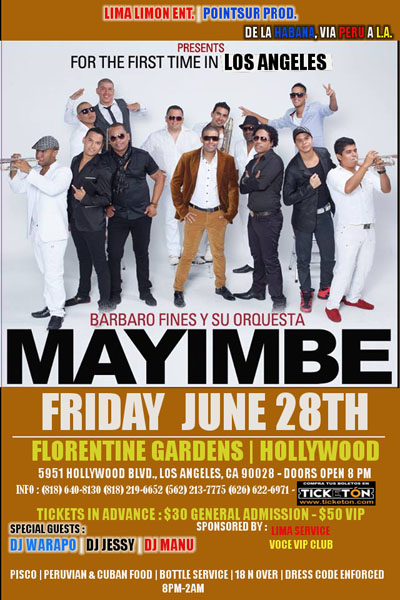 +++
ARSENIO RODRÍGUEZ PROJECT @ MOLAA on FRIDAY JUNE 21
The ARSENIO RODRÍGUEZ PROJECT will be happening at the MUSEUM of LATIN AMERICAN ART (MOLAA) in Long Beach FRIDAY, JUNE 21. The evening's tribute to Cuba's great musician/composer./bandleader will bring together some great musicians Among the artists slated to perform with LAS ESTRELLAS de ARSENIO are ALFREDO 'CHOCOLATE' ARMENTEROS, ALBERTO SALAS, LUIS ERIC, PERICO HERNÁNDEZ, ALBERTO TAMAYO, SANTIAGO SANTIUSTE, LUIS ALBERTO ORTEGA ... and more! ...musicians and vocalists living now in the U.S. who performed with the likes of Conjunto Casino, Paulito F.G., Mayra Caridad Valdés, Aramis Galindo, Buena Vista Social, Club, Cachao... Tix are $25, available @ @ http://museum-of-latin-american-art.myshopify.com/products/a-cuban-night-at-molaa-june-21-2013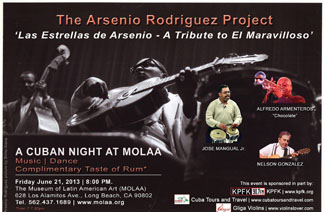 _____
November 19, 2012:
8 DAYS in L.A.: CHUCHO VALDÉS QUINTET! ALEXANDER ABREU y HAVANA d'PRIMERA! IVÁN MELÓN GONZÁLEZ LEWIS accompanying CONCHA BUIKA! DAFNIS PRIETO PROVERB TRIO!
Well, yes, it's been quite an amazing week to be in L.A. I was able to attend the first three of these music happenings that L.A. had to offer this week...DICHOSA SOY YO! Here I'll report on ALEXANDER ABREU & HAVANA d' PRIMERA, and a bit on CHUCHO VALDÉS.
+++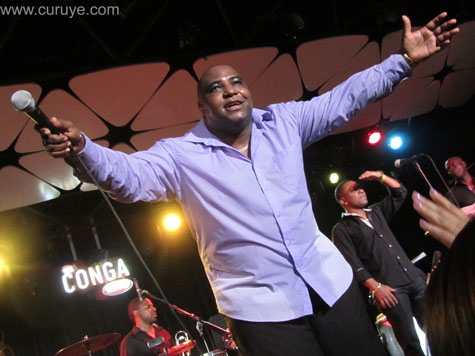 ALEXANDER ABREU y HAVANA d' PRIMERA, PRESENTE!
Last Thursday in Los Angeles ALEXANDER ABREU y HAVANA d' PRIMERA kicked-off their U.S. PASAPORTE TOUR. It's always nail-biting to know your city is the first on a Cuban group's U.S. tour, but they made it!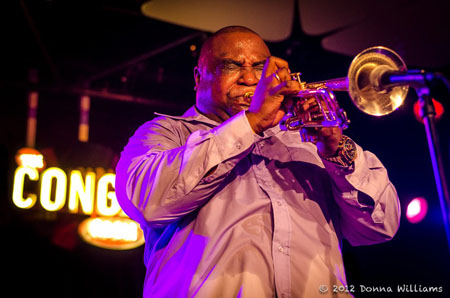 And Southern California gave HAVANA d' PRIMERA a warm welcome! An estimated 500 fans clamored into L.A.s CONGA ROOM for what was to be, for most, their first opportunity to experience live this awesome band. ALEXANDER ABREU y HAVANA d' PRIMERA opened with RESUMEN de los 90, then continued to thrill the crowd with a non-stop, high energy, performance, dándole duro y con todo corazón for more than an hour and a half ! About half the repertoire of the evening came from their first HACIENDO HISTORIA cd, the other half from the new cd, PASAPORTE. From the new cd, CARITA de PASAPORTE, and AL FINAL de la VIDA, two songs which have already gotten a great deal of international exposure, drew a huge response from the audience, but the emotion and intensity of ABREU singing, and the band playing, SE OLVIDÓ QUIEN SOY YO commanded one tremendous ovation! Another favorite of the evening is a new number that is lamentably on neither cd, LA BAILARINA. Whoa! ...the melody, tempo changes, funkiness of the bass, horns, syncopation is just ...ay por diós! Delicious!
Abreu seemed humbled by the tremendous response of the public, with so many fans singing the lyrics to the songs they have waited so long to enjoy live! At the end of the concert, Abreu jumped into the crowd to receive the love of the audience--quite a mob scene!
Disappointments: The sound wasn't the best. I thought it was just that I was mashed up against the stage, maybe too close to the speakers, but then friends in the back also complained about the overall sound quality. Also, unlike other Havana d' Primera performances I've had the joy of attending in the past, it seemed there was less opportunity to appreciate master Abreu on trumpet. SABROSO offered a tease of his musicianship, and that of his musicians, but it just gave you ganas to hear more. Incidentally, if you miss HAVANA d' PRIMERA's usual timbalero/drummer RODNEY BARRETO, look for him as a featured musician in the CHUCHO VALDÉS QUINTET that is concurrently touring the U.S.
Suggestion: If you want the new PASAPORTE CD with DVD that the band is selling, scope out the source early. L.A.'s quota disappeared quickly! Many Angelenos went home disappointed.
Hollywood/NBA note: Jazz fan, and NBA legend KAREEM ABDUL-JABBAR was one of the So Cal fans enjoying the music of HAVANA d' PRIMERA! (He is often seen at concerts of Cuban groups!).
+++
CHUCHO VALDÉS QUINTET, November 10, 2012 @ the Luckman Fine Arts Comples, Los Angeles, California
I'll share some reactions from socios who also attended this concert that help describe this incredible musical evening:
Ricardo Lois: "Great show...One of the best, if not THE best, jazz groupings out there. My hat is off to Chucho...he lets these young lions shine."
Gloria Herrera: "Chucho always chooses the most incredible musicians. Angel Gastón Joya Perellada, the bass player ,was truly in the stratasphere! WOW! WOW! WOW!"
Michael Cherashore: "I'm speechless. Chucho just never 'phones it in' does he?
+++
Thanks to GLORIA HERRERA for her input on this and other Latin music reports (and for snatching up a hard-to-get PASAPORTE cd for me!); and also to photographer DONNA WILLIAMS for sharing one of her many amazing concert photos.
-------------------
OCTOBER 17, 2012:
LOS ANGELES HAPPENINGS! HAVANA d' PRIMERA, CHANGUITO, CURUYE's ANNIVERSARY CELEBRATION, ORQUESTA ARAGÓN, JANE BUNNETT, CHUCHO VALDÉS, DAFNIS PRIETO, JUAN de MARCOS & AFRO CUBAN ALL STARS ...read on...!
FINALLY in LOS ANGELES! The CONGA ROOM has officially announced ALEXANDER ABREU & HAVANA d' PRIMERA for a THURSDAY, NOVEMBER 15 performance! THE BUZZ IS ON! Tix are only $20 now, but I've been advised those prices may go up closer to show date! For tix: www.congaroom.com. (Knowing that they'll be up in the Bay later in the month, I'll bet some Southern Californians won't be able to resist traveling north on that long Thanksgiving weekend for another hit of this awesome band!)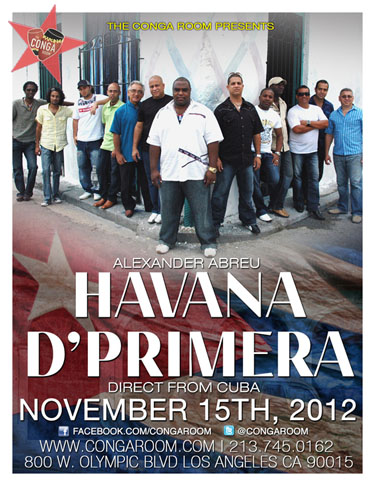 ---
'CHANGUITO' JOSÉ LUIS QUINTANTA in LOS ANGELES -OCTOBER- NOVEMBER 2012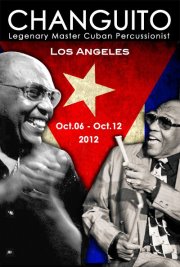 Also in town this month and next is 'CHANGUITO' JOSÉ LUIS QUINTANA, Cuba's legendary percussionist, and one of LOS VAN VAN's founding musicians. Drummers galore from L.A.'s music scene are seeking him out for private classes, and filling up his percussion workshops. On SATURDAY, NOVEMBER 24 he'll be featured with the AFRO CUBAN JAZZ PROJECT which includes former MARACA trumpet player JOSIEL PÉREZ, along with FERMÍN SIFONTES on keyboards, SAWA PÉREZ on bass, BRIAN DE LA FÉ on congas at VITELLO's JAZZ & SUPPER CLUB in the Studio City area of L.A. Last week he performed with the jazz funk grouop HAAKON GRAFF ALL STARS at The BAKED POTATO. KATI HERNÁNDEZ had CHANGUITO accompanying her AFRO CUBAN DANCE CLASS, with 'CUSITO' JESÚS LORENZO PEÑALVER (Rumberos de Cuba) singing! IMAGÍNENSE! Contact PEGGY JO OLIVA @ pj@lucumiyque.com for classes and bookings. Visit www.lucumiyque.com for performance schedule.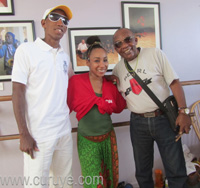 ...TREMENDA GOZADERA at CURUYE.COM's DOUBLE ANNIVERSARY CUBAN DANCE PARTY!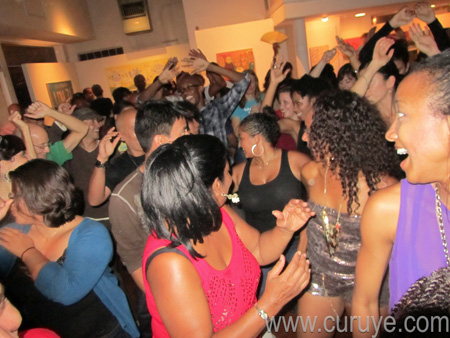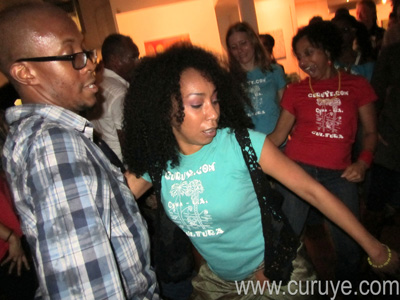 CURUYE.COM THIS WEEK CELEBRATED 9 YEARS of the CULTURAL WEBSITE www.CURUYE.COM (keeping Southern California informed of select CUBAN HAPPENINGS), and 3 YEARS of CUBAN TIMBA DANCE PARTIES in L.A. with DJ SAOCO, who was truly 'en talla y ARRASANDO!' CURUYE was thrilled to have most of L.A.'s timberos help celebrate, and was honored to welcome the presence of the one and only CHANGUITO at the celebration! (photo below: Changuito with Gloria Herrera, Kay Torres (Curuye), DJ SAOCO-Vicente Lantigua)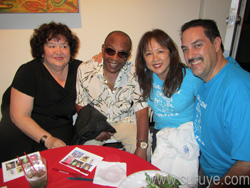 ...UPCOMING IN L.A. ...
FRIDAY, OCTOBER 26: ORQUESTA ARAGÓN presented by ALBERT TORRES @ Stevens Steakhouse in the City of Commerce. A few tix still left: salsadeb@earthlink.net
SATURDAY, NOVEMBER 3, RHAPSODY CUBANA with JANE BUNNETT on sax and flute, HILARIO DURÁN on piano, and CANDIDO on congas @ the MUSICIANS INSTITUTE in Hollywood, in conjunction with the JAZZ BAKERY. http://www.mi.edu/news/11/3/2012
SATURDAY, NOVEMBER 10: CHUCHO VALDÉS at the LUCKMAN FINE ARTS CENTER. http://www.luckmanarts.org/events/
THURSDAY, NOVEMBER 15: ALEXANDER ABREU & HAVANA d' PRIMERA @ the CONGA ROOM @ downtown's L.A. LIVE. www.congaroom.com
SUNDAY, NOVEMBER 18: Master drummer DAFNIS PRIETO's PROVERB TRIO with KOKAYI (poetry/vocals), and JASON LINDNER (piano) perform @ the MUSICIANS INSTITUTE in Hollywood, in conjunction with the JAZZ BAKERY. jazzbakery.org
FRIDAY, MARCH 1, 2013: JUAN de MARCOS & the AFRO CUBAN ALL STARS at the CERRITOS PERFORMING CENTER for the ARTS. www.cerritoscenter.com
------
April 7, 2012
FROM CUBA to LOS ANGELES:
TIMBA! SON! RUMBA! CHARANGA HABANERA! SIERRA MAESTRA! JESÚS 'CUSITO' PEÑALVER!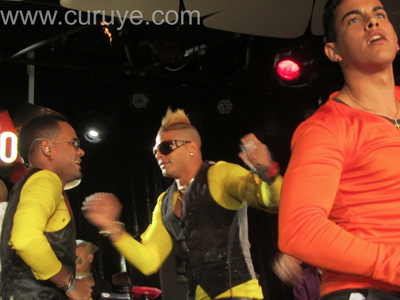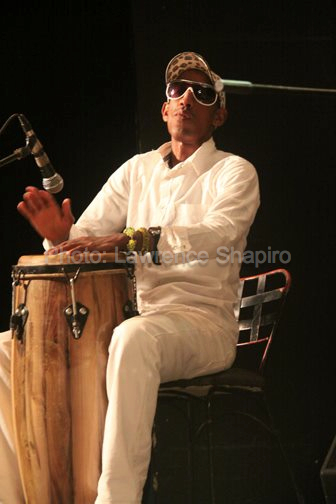 No one can deny the importance of Afro Cuban roots, and son in the evolution of, and expression in, timba music. Within a month's time Los Angeles has had the opportunity to enjoy some of the best exponents of TIMBA, SON, RUMBA with the presence of , direct from CUBA, DAVID CALZADO y LA CHARANGA HABANERA, ORQUESTA SIERRA MAESTRA, and JESÚS 'CUSITO' PEÑALVER.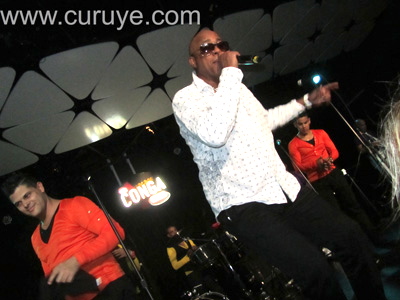 TIMBA: On the evening of Thursday, April 5, CHARANGA HABANERA fans were 700 strong at the CONGA ROOM, at L.A. LIVE! Los Angeles' downtown entertainment complex. Establishing their front row presence well before the concert started were L.A.'s Peruvian CHARANGA HABANERA fans...and FIRMES they remained! When DAVID CALZADO yelled out "PERUANOS!", the bulla was equal to the shout back from" "los CUBANOS!"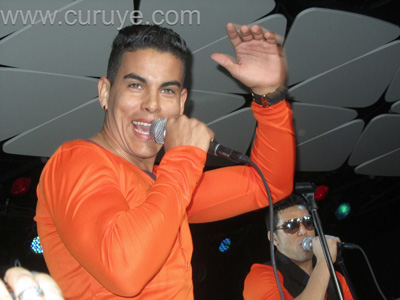 DAVID CALZADO y LA CHARANGA HABANERA gave their all in another energetic (understatement) performance! Their one-set, non-stop concert lasted more than two hours! Most of the selections they performed came from their ACABAÍTO de NACER cd (however, alas! they did not perform LA MIRADERA, nor YUCA...)...seemed like the crowd belted out entire songs, (not just coros!) from this, the Charanga's latest cd. Oldies that rocked the house were 'LOLA, LOLA', and 'NUBE PASAJERA'. The ageless DAVID CALZADO was in true form, keeping the show flowing with his sharp musical direction, and maintained the audience smiling with his glib introductions, and with his usual singing his heart out "in the background" to the songs off mic.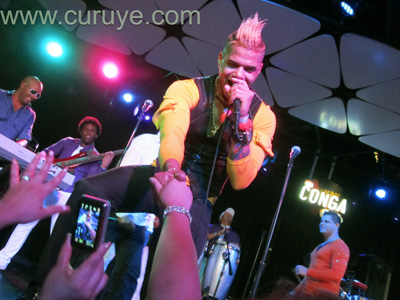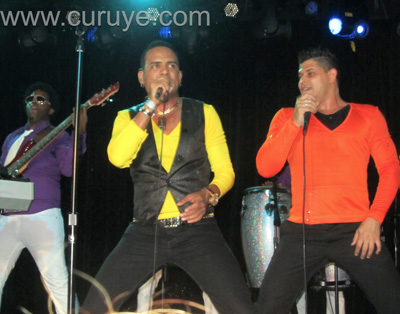 Keeping up with the stage action is always tough with the CHARANGA HABANERA--don't wanna miss the action on the right, which is totally different than the action on stage left...Whoa! and before you know it, they're all off dancing back to stage right. TREMENDO ESPECTÁCOLO. "There's no question the audience loved their performance!" stated one Conga Room staff member at the end of the show, "especially 'las muchachas'!" "Just a boy band," grumbled one attendee, whose girlfriend screamed, clamored, and sighed throughout the evening.. I can only say, you can't deny the top notch musicianship of all the Charangueros...and the front line vocalists? Admit it! They're not just great lookers and dancers, they're all darn good singers as well. The new, young Charanguero PEDRO NIETO MORA was highly featured and warmly received. The ever-popular DANTE 'RIKI RICÓN' CARDOSO that he replaced did not seem to have been missed as I'd thought he might be. LÁZARO 'LACHY' MAYA's voice and expression were at his best, and one never-ending "WOW!" could be heard running through the crowd feeling that incredible bass line of ERNESTO MAZAR (how could you not feel it?).
DJ WARAPO had the honors of keeping dancers on the dance floor before and after the concert.
+++
SON: SIERRA MAESTRA: This iconic Cuban orchestra unfortunately performed the SAME NIGHT as the CHARANGA HABANERA across town at the westside SKIRBALL CENTER. Diehards like Latin music aficionadas GLORIA HERRERA, and KATHY 'La RUMBERA' DÍAZ (of KPFK's CANTO TROPICAL), actually attended both concerts. They reported that the SKIRBALL theater was filled to capacity (around 300), and that SIERRA MAESTRA had the audience dancing from the very beginning of the concert anywhere there wasn't a seat attached to the floor! They played all exquisitely, from son to danzón to jazz. After rushing across the city, they made it in time to catch the CHARANGA HABANERA show. "What a panorama of great Cuban music we've been able to experience in just this one night!" the ladies exclaimed.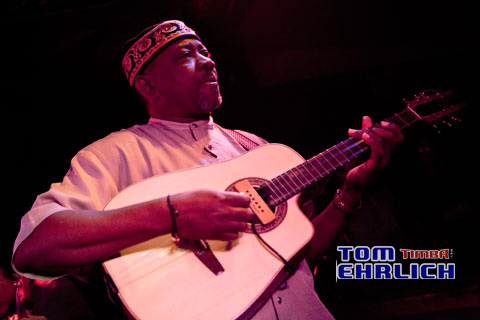 photo by Tom Ehrlich
+++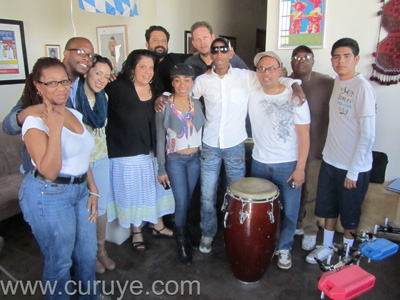 RUMBA: JESÚS 'CUSITO' PEÑALVER. For the past month, Los Angeles has been star struck with the presence of one of Cuba's young legends of AFRO CUBAN musical traditions. CUSITO was invited to Southern California to teach AFRO CUBAN percussion and song for the Department of Music at POMONA COLLEGE. Presently one of the dynamic, creative forces of LOS RUMBEROS de CUBA, CUBADISCO-winning Havana rumba group, CUSITO also performed with Cuba's esteemed folkloric company RAÍCES PROFUNDAS (who has been invited to perform at the SAN FRANCISCO INTERNATIONAL ARTS FESTIVAL in May). CUSITO can also be heard playing and singing--as only he can play and sing-- on the ABBILONA series of recordings of cantos from Cuba's Yoruba sacred traditions. The community here has clamored to study AFRO CUBAN percussion, and song with him while he is here. He has made some unannounced appearances at some presentations, and at some toques de santo, and has on occasion showed up to accompany KATI HERNÁNDEZ's AFRO CUBAN dance classes*. Last week at the event BANTU: MUSICAL TRADITIONS in the AMERICAS, CUSITO got on stage with LÁZARO GALARRAGA, (another master of AFRO CUBAN traditions, and founding member of the CONJUNTO NACIONAL FOLKLÓRiCO de CUBA) who lives in Los Angeles. The two took turns as lead singer/lead drummer in some delicious yambú, and guaguancó...SABROSO! In Habana you can see CUSITO perform with LOS RUMBEROS de CUBA at the PATIO EGREM on Friday afternoons, or at special presentations of the group at the PALACIO de la RUMBA. (Watch CUSITO singing, and drumming!).

*On SUNDAY, APRIL 15, CUSITO will be teaching an AFRO CUBAN SONG CLASS (10:30-11:30 AM), accompanying an AFRO CUBAN DANCE CLASS (11:30 AM-1 PM) taught by JUAN CARLOS BLANCO (former lead dancer of Habana's RAÍCES PROFUNDAS), followed by an AFRO CUBAN PERCUSSION class on quinto (1:15-2:30 PM).at UNIVERSAL DANCE DESIGN, 6009 W. Olympic Blvd., L.A. 90036. A workshop of KATI HERNÁNDEZ's ORICHA THERAPY SUNDAY CLASS. For more information, contact KATI HERNÁNDEZ @ happyhappykati@yahoo.com.
+++
OTHER UPCOMING CUBAN EVENTS in LOS ANGELES: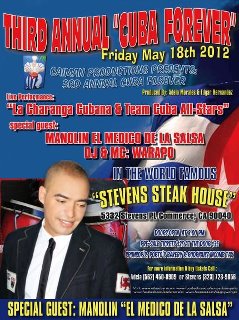 -Friday, May 18: MANOLÍN, EL MÉDICO de la SALSA at STEVENS STEAKHOUSE
-Thursday, June 7: BAMBOLEO at the CONGA ROOM www.congaroom.com
For more Southern California Cuban cultural events and classes, visit www.curuye.com
/kt
------
September 17, 2011
VAN VANEANDO en L.A.: LOS VAN VAN @ the CONGA ROOM-SEPT 15, 2011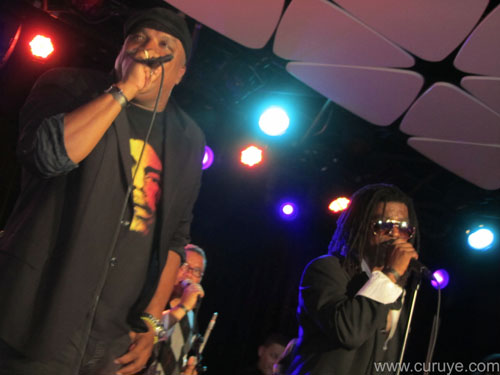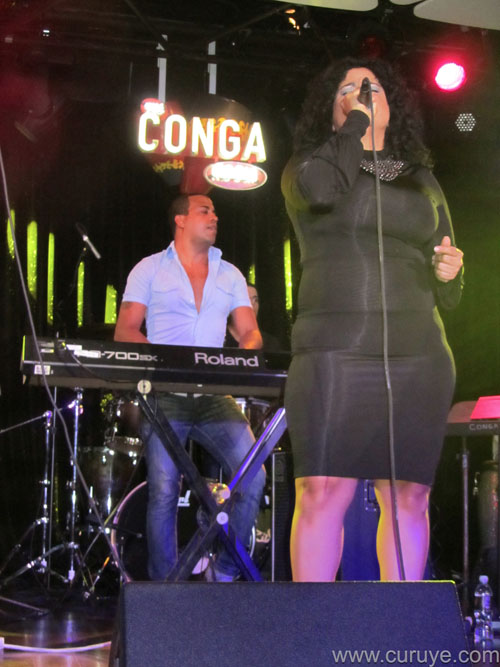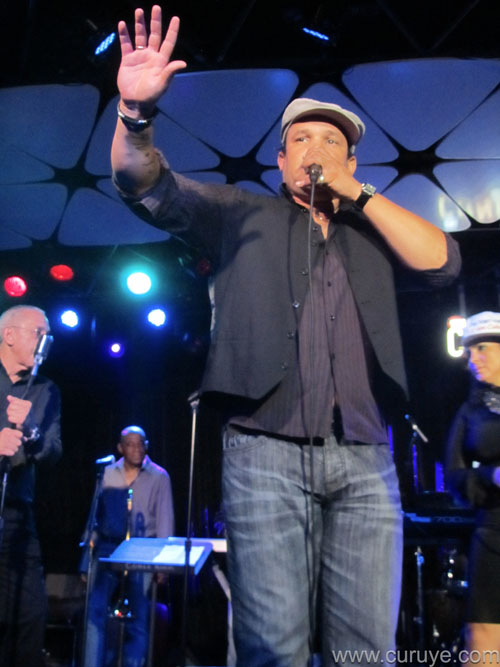 YES! It was worth the wait! LOS VAN VAN's CONGA ROOM PERFORMANCE was LO MÁXIMO! Did the six-week delay from the original August date hurt attendance as many expected? NOT! Conga Room staff advised me the evening was sold out with over 800 VAN VANEROS singing and dancing to every song of their two-hour set.
CHAPEANDO kicked off the high-energy evening of non-stop music. The repertoire was similar to their last two December concerts, and the audience couldn't have been more delighted! Who doesn't want to hear YENNY belting out DESPUÉS de TODO one more time? Or LELE leading ME MANTENGO and ANDA VEN y QUIEREME? VAN VAN oldies performed included EL QUE BAILA GANA and SANDUGUERA, the latter bringing down the house with the solos by CUCURUCHO on piano, and by guest drummer LEO GARCÍA who had his chance to shine as SAMUEL's sub. MAYITO soneando in SI NO TE QUIERES TÚ, con todo corazón, is an experience I'll not soon forget. ROBERTÓN EL GUAYACÁN had his old special energy, and was definitiely in his dance groove, as well as PEDRO FAJARDO wailing on violin while getting down! By the time VAN VAN performed the last song of the evening, ESTO TE PONE LA CABEZA MALA, the floor of the CONGA ROOM shook from the seismic enthusiasm of the crowd.
LEO GARCÍA, director of Miami-based TIMBALIVE did a more than admirable job of filling in for SAMUEL FORMELL. Wow! To fill in for SAMUEL on a VAN VAN tour after less than a week of rehearsing with the band is no short order! How well did he do you ask? You judge: Towards the end of the concert when director JUAN FORMELL preseented the musicians, GARCÍA was introduced as "GRAN LEO!" At concert's end VAN VAN musicians were high-fiving GARCÍA without reservation!
Backstage talk from GLORIA HERRERA: LOS VAN VAN said the L.A. audience's enthusiastic reception just fueled the musicians tonight! L.A. expressed a lot of love for them in December, but at this concert they felt it even more.
Most heard adjective after the concert: "AMAZING!"
To answer a question I was asked earlier this week re: VAN VAN's current tour: YES! I would drive six hours to go see them! Go fill up your tank B.! Wish I could join you for another round!
+++
September 14, 2011
PHEW! THEY MADE IT! LOS VAN VAN ARRIVED in L.A. WEDNESDAY NIGHT! ... in TIME FOR THEIR CONCERT @ THE CONGA ROOM ON THURSDAY, SEPTEMBER 15! Some tix still available www.congaroom.com. Will update you after the concert!
September 9, 2011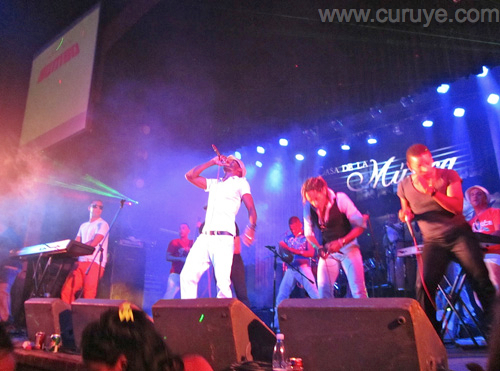 MAYKEL BLANCO in L.A.: RAYDEL (Deejay WARAPO) MÁRQUEZ of WARAPO PRODUCTIONS announced today that tickets for MAYKEL BLANCO y SU SALSA MAYOR's THURSDAY OCTOBER 20 concert in Long Beach (southeast Los Angeles) are now on sale! Purchase your tickets--$40 general, $75 VIP seating--for the Southern California concert at http://warapoproductions.tix.com. The concert takes pl
Kevin Moore - viernes, 09 abril 2021, 08:53 pm