Lo Nuevo
[hide]
Fotos Del Día
[hide]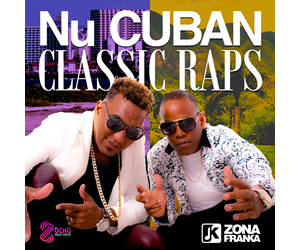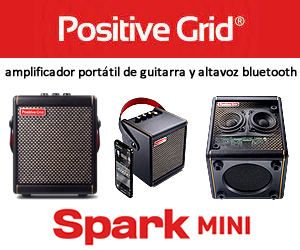 Gotham Report
Nov 12, 2014-Pedrito Martínez Group at Harlem Stage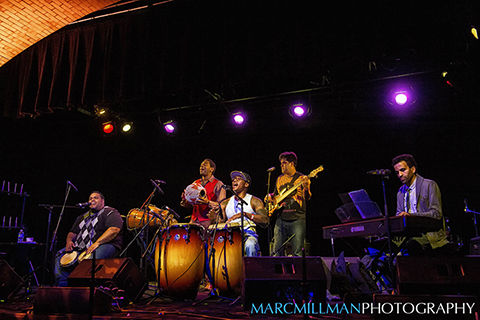 Photo courtesy of Marc Millman Photography
It has been over a year since Gotham Report covered the Pedrito Martínez Group at their CD release concert at City Winery last October. For the past year the band has continued to wow audiences all over the world with their super-tight sound and blazing showmanship. They have been in constant flux between the road their long running tenure at Guantanamera Restaurant in Manhattan, as well as other major venues in New York.
However, as 2014 approaches its end, the band members have found themselves in period of significant change. For years the group's name has almost been synonymous with Guantanamera, the very place where much of their reputation was build via their Tuesday-Thursday residency. New Yorkers and tourists from all walks of life would gather on these nights to be dazzled and amazed by the one and only PMG. Nevertheless, Martinez and his commrads will be starting a new residency at Subrosa, a new, Cuban-themed venue located in Manhattan's meat-packing district. The new venture is said to begin in December of this year.
Although the group's lineup has been through a few minor changes since its inception, the personnel has remained rather consistent during the group's most successful period. Martínez, Álvaro Benavides, Jhair Sala and Ariacne Trujillo have been the most recognizable incarnation of the group and all appear on the band's eponymous album that was released in the fall of 2013.
Nevertheless, the group's piano chair has recently changed once again. Ariacne Trujillo has decided to part ways with the group to pursue opportunities as a solo artist. In Trujillo's stead, the Pedrito Martínez Group has brought in Edgar Pantoja-Alemán. A native of Santiago de Cuba, and a recent arrival to NYC, Edgar Pantoja-Alemán has quickly established himself in Gotham's Cuban Music community. His deft musicianship and thorough knowledge of all eras of Cuban music have enabled him to play with a variety of groups in the Tri-state area.
The band took the stage with their new pianist on November 8th at Harlem Stage as part of Uptown Nights Makandal Mixtape Live. The event was a cultural affair celebrating the significance of the Yoruba, Kongo and Arara presence in the Caribbean. The night also included sets by Kongo (Haitian Roots Group), the high-energy merengue band Ripiao Kings as well as Yosvany Terry as one of the evening's featured guests.
Although Pantoja has subbed with Pedrito in the past, the Harlem Stage show marked his first performance as a full-time member of the Pedrito Martínez Group. The show was superb as always and the band did what they do every time they take the stage. Pantoja is an extremely musical pianist, and throughout set he took beautiful solos and played perfect tumbaos, all while navigating the band's intimidating breaks and four-part vocal harmonies with ease. The rapport between Martínez, Benavides, Sala and their new comrade already seemed well established as the group communicated fluidly through the body of the show. Entering a group so well established is no small task for any musician, and Pantoja stepped up to the plate beautifully.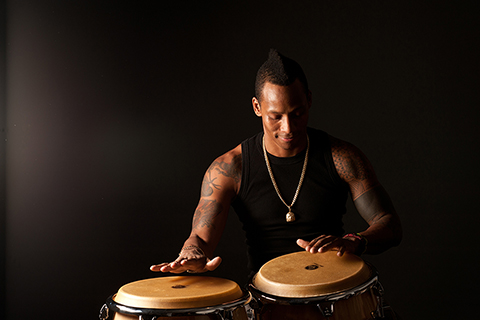 The band's new residency at Subrosa will officially commence next month, with dates being announced on their fan page and newsletter. The group will also be offering two admission free concerts Wednesday and Thursday of this week to christen the new venue. Doors open at 6pm with sets at 7pm and 9pm. Subrosa is located at 63 Gansevoort St. Hopefully, this time of change will be yet another fruitful chapter in the story of this seemingly unstoppable Cuban Music Ensemble.
---
Aug 8, 2014-Midsummer Nights News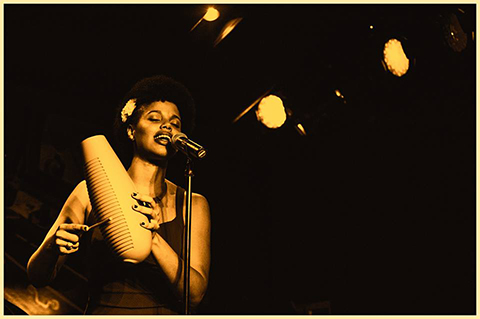 Midsummer has been an exciting time to check out live music here is NYC, with numerous concert series and residencies going on the choices are almost to many to list. This past week marked the end of the highly successful Jazz at The Crossroads Festival: The Dance of the Eleggua at Minton's Jazz Club. The festival has featured some of New York's finest but more importantly has featured special guest from the island of Cuba itself. We checked out the Los Terry concert back in June so it was only appropriate to catch the closing of the series as well.
The band for the night consisted of Juancho Herrera on electric guitar, Peter Slavov on bass, Mauricio Herrera on percussion, and of course the captivating Melvis Santa on vocals. Santa's voice fit well over the sparse dynamic of the trio that accompanied her. She often accompanied herself on guiro, claves or other small percussion instruments and directed the band with a playful and serene confidence that was wonderful to observe. The overall vibe was fairly atmospheric and open with a defined underlying groove that held everything firmly in place. The music had an elusive quality that defied classification. It was at times funky, at times son and even had hints of folk and Americana.
The relatively minimalistic instrumentation gave ample room for interplay amongst the three sidemen. Both Juancho Herrera and Peter Slavov took rousing solos throughout the set, opting for rhythmic and melodic creativity over flash. Juancho's electric guitar was particularly interesting from a sonic point of view his heavily reverb-saturated tone created a vibe reminiscent of Bill Frisell and Ennio Morricone.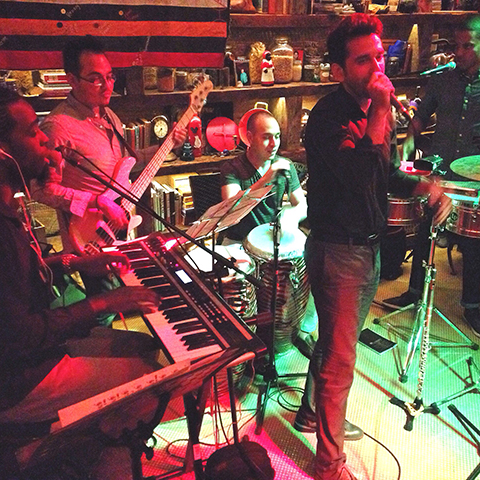 Photo by Darwin Noguera
Another recent show of note was the Paulo Stagnaro Group playing their regular slot at The Red Rooster, also located in Harlem. The band plays at this particular venue twice a month on average, usually every other Tuesday. For this night the group's core consisted of Jeremy Dejesus on vocals and flute, Axel Laugart on keyboards, Daniel Torres on bass, Marcos López on timbales and Stagnaro on congas.
The group has enjoyed a considerable amount of stage time together with a fairly consistent lineup, and as result the ensemble was a picture of synchronicity. The level of comfort and rapport these musicians had between each other was blaringly apparent as they turned on a dime in singular fashion through their highly involved book of Timba and Salsa arrangements. Stagnaro and his group also perform at Terraza 7 and other venues in the NYC area. For more information on upcoming performances check out Paulo's website.
In other news NY's very own Abogado De La Salsa, Gerardo Contino, debuted his new video for "Venimos Comercial" off of Somos Latinos (recently reviewed here). The video generously features Roberto and Luisito Quintero who both contributed brilliant solos to the recorded track as well as impeccable playing on the rest of the album. A music video featuring instrumentalists is a rare sight these days, so this one is real gem. Of course Contino and his band can be seen very often at their various residencies at Guantanamera, González y González and other venues around town.
---
July 10, 2014-Dayramir González Vicet and The Afro Cuban Soul Rebels at SOB's
All photos by Darwin Noguera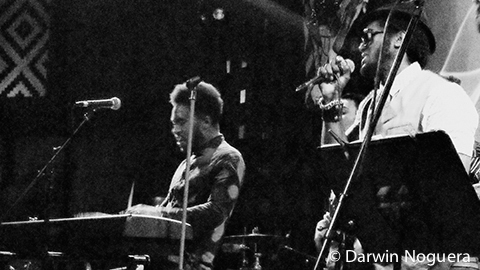 The last time we saw pianist/composer Dayramir González Vicet was with Habana EnTRANCE at SOB's in October of 2013. The concert was in celebration of his endowment from the Berklee Collage of Music and his debut on the New York City music scene. This performance was one of the first concerts to be reviewed in the Gotham report and was a strong demonstration of his abilities as a performer/bandleader as well as his penchant for writing highly dynamic, intriguing and progressive Latin jazz.
Since his October appearence, Vicet has been busy pursuing new musical ventures as his career moves further into 2014. For his July 10th return to SOB's, the pianist brought a very different ensemble to grace the stage. The name of Vicet's new group was The Afro Cuban Soul Rebels, a funk/rock/hip-hop ensemble with an underlying Cuban influence. The concept for the music was born through Vicet's collaboration with fellow Cuban artist/North American transplant Edrey aka Ogguere who came to New York from current residence in Toronto to join Dayramir in this one-night-only event.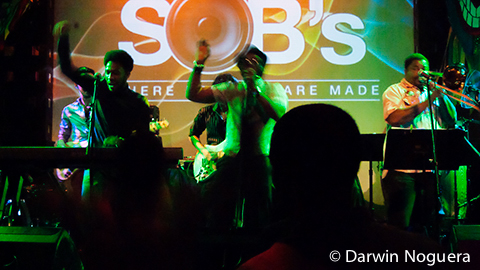 For the lineup of this outfit, Vicet chose some very capable musicians from multiple genres to join him onstage. The core of ACSR included Antoine Katz on bass, Tim Smith on drums, Ameya Kalamdani on electric guitar, Hommy Ramos on trombone, Tatiana Ferrer on violin, keyboards and backing vocals, and Mauricio Herrera Tamayo on percussion along with special guests Iván Llanes on drumset and Ismel Wignall on quinto as well.
According to Dayramir, the premise of the show was a simple one. The idea is to bridge the gap between the intelligentsia and the general public and create a group that can easily cater to either side of the demographic spectrum. While Cuban music by nature has always employed concepts and traits of serious and popular music along with influences of American jazz and pop music, this particular effort was an even more magnified example of this intellection.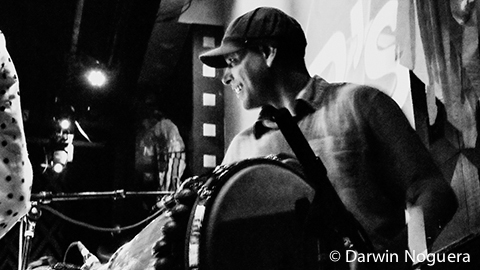 Much of the repertoire was indeed more of a fusion of rock, funk and jazz. Many of the sidemen onstage have made names for themselves playing these styles so it was no surprise that and on these selections the musicians really shined. The set list was split mostly between Vicet's original compositions and songs off of Ogguere's latest disc as well. The result was indeed an interesting mix of the raucous energy of Ogguere's high-octane funk and hip-hip with Vicet's odd-meter instrumentals. Although all of the players did an excellent job throughout the set, drummer Tim Smith stood out from the crowd. Whether it was navigating Dayramir's original compositions or laying down a simple backbeat he was always authoritative, grooving and confident in everything he played.
Since his arrival to the US, Dayramir appears bound and determined to make his mark on the music world and have his voice heard by audiences across the board. With his broad palette, boundless determination and the rich pool of NYC talent he has to draw from, Vicet's journey seems without impedance.
---
June 17, 2014-Paquito D'Rivera at Dizzy's Club Coca Cola
All photos by Joke Schot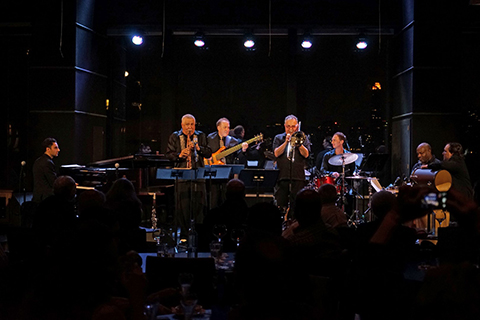 Tuesday June 17th marked the first of Paquito D'Rivera's six-day concert run at Dizzy's Club Coca Cola in Columbus Circle. The man whom Chucho Valdez has numerously referred to as "a genius" has been on a nonstop pursuit of new musical avenues for many decades. From his early career in Cuba with Irakere to his most recent mergers of jazz, Latin American and classical music, D'Rivera is a relentless musical mind that refuses to stand still.
The concert series, entitled "Jazz Meets The Classics", featured selections from Paquito's most recent albums. The theme of the show was described by Paquito as a celebration of "the eternal romance between jazz musicians and classical composers". Paquito himself has never been a stranger to this concept, but rather has proven to be one of the most successful delegates in the field of both styles and has won many-a-deserved award in either area.
D'Rivera's septet for the night included longtime sidemen Oscar Stagnaro on electric bass and Mark Walker on drums, along with percussionists Arturo Stable and Pernell Saturnino. The group also included Alex Brown on piano and Diego Urcola on trumpet and valve trombone. The lineup in this particular format has enjoyed a considerable amount of stage time recently and the marks of this stint together were more than apparent in this performance.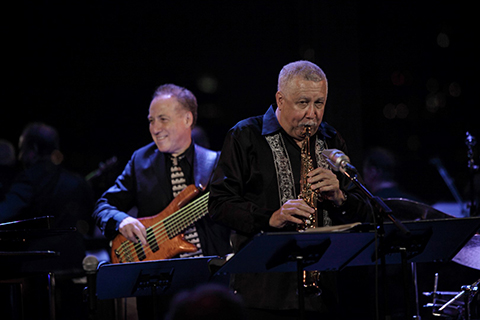 The night started at a high point with "Las Abejas", an exotic dervish that introduced the solo capabilities of most of the band members in a fiery tour-de-force. Mossman's rendition of Mozart's "Queen of the Night" was another eclectic roundabout much true to the bandleader's character. The mysterious tango "Prelude #3" was especially interesting in that it was transcribed by Diego Urcola from a recording of Dizzy Gillespie sitting in with a tango orchestra in Buenos Aires years ago. The tune featured dramatic tempo changes and an especially stirring clarinet solo by D'Rivera. Ernesto Lecuona's "Andalucia Suite" was a delightful deviation from the rest of the set as it featured the duo of D'Rivera and Oscar Stagnaro. Stagnaro demonstrated his vast array of extended techniques on the electric bass and brought the house down with a startling solo that the crowd responded to with enthusiastic applause.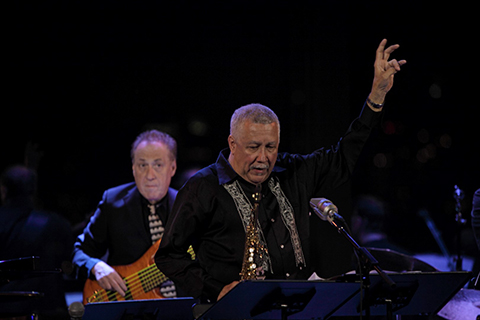 Indeed all of the re-works of the night had this incredible charm, whether staying close to home or moving all over the map; there was a life to the music that lesser artists would've lacked. The music consistently displayed a certain sense of jubilance more akin to that of younger bandleaders, yet with the kind of attention to detail that is only possible through the experiences of a true master. While Paquito may have described the show as an exhibition of "the eternal romance" mentioned before, the night may indeed have been, like most of his performances, a demonstration of his undeniable mastery of both genres. The history of both jazz and classical music has seen many lackluster attempts to merge these two styles together. Mr. has proven time and time again that he is able do so with a degree of ease, panache and genuine showmanship few musicians of any genre are able to achieve.
---
June 11, 2014-Gerardo Contino Y Sus Habaneros at Lucille's Bar & Grill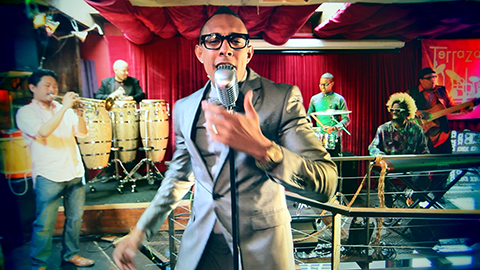 Wednesday, June 12th Gerardo Contino and his band Los Habaneros took the stage at Lucille's Bar & Grill located in BB King's Blues Club, one of midtown's most well-known music venues and tourist destinations. For this particular event, aptly named Cuba: A History in Music, Contino had a platform in mind that differed slightly from his usual routine at his more regular gigs around town. Contino humbly described the premise of the concert as "an attempt to tell the history of Cuban Music in an hour and twenty minutes in an interactive manner with the audience". For the interactive element, Contino employed the talents of a team of dancers who participated throughout the evening. He also mentioned that despite the title of the show, the aim of the concert was to actually break away for the "Museum" mentality that similar events seem to induce.
Since arriving in NY in 2009, the former NG La Banda vocalist has been one of the handful of key delegates in a new slew of NYC based Cuban artists that have been taking over Manhattan and creating a scene for themselves based out of supportive locales such as Guantanamera and Gonzales y Gonzales among others. Contino himself performs every Friday and Saturday at Guantanamera and a few times a month at Gonzales y Gonzales, making his band one of the most visible Cuban music groups in the city at present.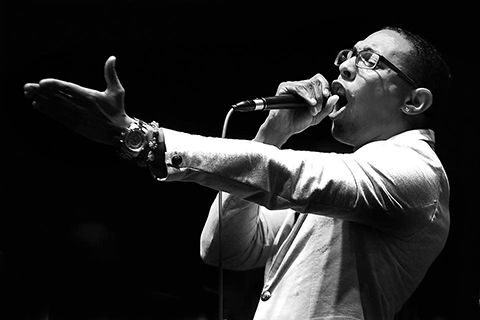 His battalion for the night included Sebastian Nickoll on congas, Mauricio Herrera on timbales and bata, John Benítez on bass, Roman Lajaro on tres, Dayramir Gonzales-Vicet on piano, Michelle Palmieri on vocals and guiro and special guest Yileidi Olazabal on vocals as well. From a historical perspective, the show surely lived up to its name. The music was a kaleidoscopic montage through the lineage of Cuban musical culture both new and old. The first five songs celebrated Cuba's past with selections from the folkloric, bolero and danzon lexicons including "Damisela Encantadora", "En El Tronco De Un Arbol", "Si Te Contara" and "A Mi Manera".
It was both interesting and engaging to watch the show escalate from traditional to Timba over the course of just an hour and a half. After the show warmed up with a series of older styles, with the implementation of a Timbafied version of "Que viva Changó" the concert turned a sudden corner into more exotic and exciting idioms. The repertoire that followed consisted of the band's more commonly played material including the NG la Banda classics "Necesito una amiga", "La expresiva", and "Échale limón". A great rendition of "Por encima del nivel" (Sandunguera) saluted the passing of the great Juan Formell. For their grand finale, the group performed "Siempre latino" the opening track from Contino's recent album "Somos latinos".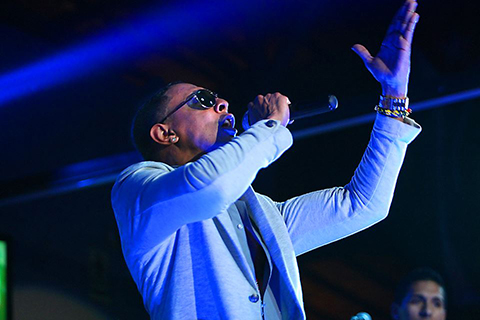 The interactive element proved to be very successful indeed and as the energy of the music rose, so did that of the crowd. Before you knew it there was dancing everywhere from the dance-floor to the bar and even the staircase to the restrooms. If nothing else, the concert succeeded at presenting Cuban music to the masses without compromising content in any way. Instead of watering down the music in hopes of attracting new listeners, Contino and his band proved that the music presented in its true form does the job just as well.
---
June 2, 2014-Los Terry at Minton's
All photos by Darwin Noguera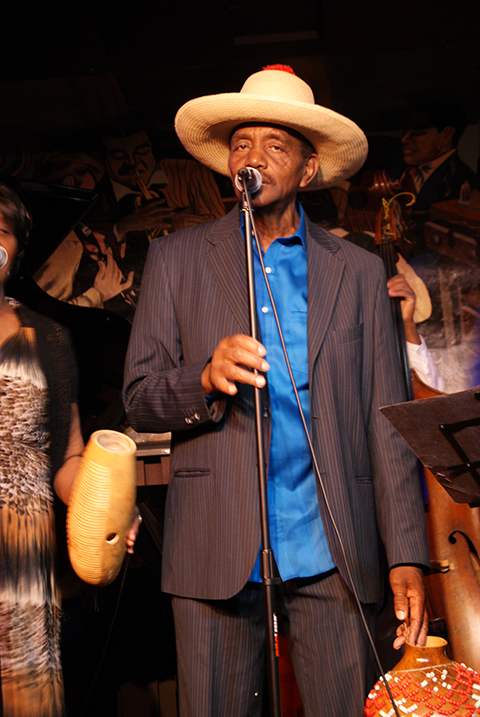 May 27th saw the third installment of the "Jazz at the Crossroads-The Dance of the Elegua" concert series that will be occurring every Tuesday night at the famed Minton's Jazz Club in Harlem from May through late August. This exciting concert run is curated by New Dimensions in Latin Jazz and celebrates the almost overwhelming diversity of the musical, cultural and artistic effects of the African diaspora to the New World, particularly the hybridizations that have occurred within New York City itself. In terms of the cross pollination of cultures and historic significance both new and old, this particular performance was no exception. Bassist Yunior Terry and saxophonist Yosvany Terry teamed up with their father Eladio "Don Pancho" Terry Back in the late 1990's and released "From Africa to Camagüey", a celebrated recording that bridged multiple generations and genres of Cuban music.
On this specific night, the NYC based brothers once again reunited with their Cuba-residing father along with an assembly of top-notch players for an evening of prime artistic conduct. The lineup of carefully selected musicians contributed as much to the evening as the repertoire itself with each player's individual prowess lending something special and unique to the show. The cadre for the night included none other than Osmany Paredes on piano, Mauricio Herrera on timbales, Yusnier Sánchez on congas, Javier "El Pollo" Porta on flute and vocals and Lydia Cabrera on vocals. The Los Terry nucleus comprised, of course, of brothers Yunior and Yosvany on bass and saxophone and the inimitable "Don Pancho" on chekere and vocals.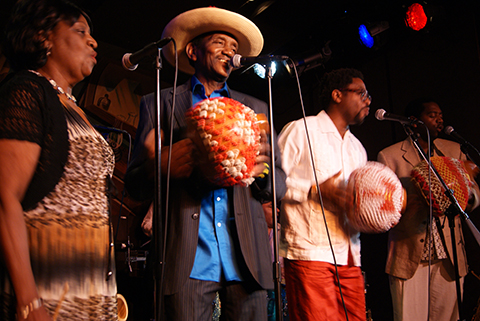 The concert's three sets demonstrated the sheer breadth of Cuban music and the numerous combinations that are indeed possible when given such a rich pallet in which to draw from. The night's repertoire not only included selections from the Los Terry recording "From Africa to Camagüey", but also ranged from modern versions of Cuban traditionals, originals based on traditional forms, full-blown Contemporary Latin Jazz and everything in between.
The distinctive performances of each individual were nothing short of superb, and each musician was featured amply in their own right throughout the course of the program. Osmany Paredes took an abundant number of brilliant solos, some of which almost threatened to ignite the very room the concert was held. Yunior Terry supplied the night with his rich tone, earthy tumbaos, and even added a beautiful, original danzón to the set list. "El Pollo" Porta was another standout performer with his limitless energy and aggressive vocal/flute work. Percussion duties were handled, not only by the maverick percussionists Herrera and Sánchez, but indeed most members took part armed with an arsenal of different sized chékeres that lined the stage. The audience was more than aware of and susceptible to this and by the end of the night the aisle was blocked with dancing patrons.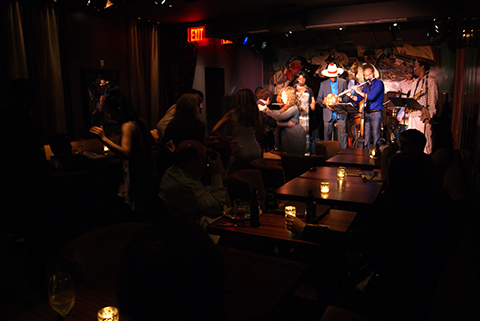 Of course one could not ignore Don Pancho himself, who benevolently endowed the evening with all the attributes that have made a reputable force in Cuban music. Whether playing, singing, or simply standing still, his calm and stately presence was felt at all times. He was the caricature of a man enjoying the fruits of a lifetime of honing his craft, always patient and aware of where he was going while knowing exactly how long it would take him to get there. From his soulful singing, startling chekere work to his genuine smile that alone was worth the door cover to see, Eladio Terry was the total package.
The concert is far from the last in the "Jazz at the Crossroads" series and in fact their season has only begun. The events are held every Tuesday at Minton's from 7pm-midnight and the schedule can be viewed on the events calendar of Gotham Report. Each event is intended to share a different and special perspective on the Latin-American experience with artists from numerous styles and places of origin sharing their craft the stage of one of New Yorks most noted jazz polestars, Minton's Jazz Club.
---
October 22, 2013-Dayramir Gonzalez & Habana enTRANCE at SOB's
All photos by Darwin Noguera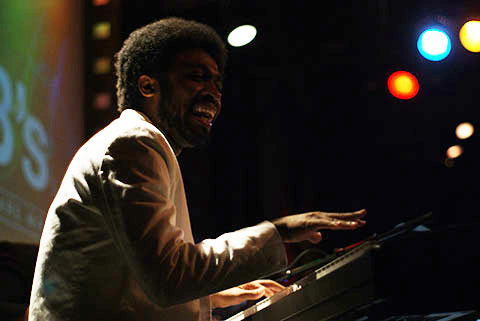 Sunday October 13th was yet another fine evening to hear world class Latin-jazz in New York City as Dayramir González & Habana enTRANCE graced the stage at SOB's. Dayramir has been on Timba.com's radar for some time now as he has been a pianist for well known Cuban groups including Klímax and Havana d'Primera. However, he made history in 2010 when he became the first Cuban national to receive a full scholarship to attend the renowned Berklee College of Music in Boston. Plentiful performances as well as a greater access to the US listener demographic have been but some of the opportunities bestowed on González via this prestigious endowment.
The core of Habana enTRANCE included Joel Mateo on drumset, Román Filiu O'Reilly on alto sax, Paulo Stagnaro on percussion and the inimitable John Benítez on electric bass. Flautist Jeremy Dejesus, tenor saxophonist Edmar Colón and violinist Tatiana Ferrer rounded out the lineup with featured cameos throughout the evening.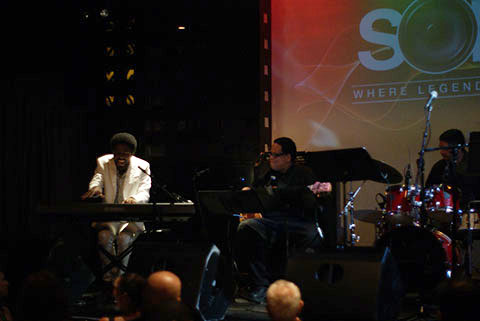 The rhythm section was wisely chosen and all members involved navigated González's labyrinthine charts with style and aplomb. Joel Mateo is a dynamic and exciting drummer who tirelessly maintains a constant level of intensity in whatever he plays, providing the music with a sense of forward motion at all times. John Benítez has been widely recognized as one of the most in-demand bass players on the Latin and jazz scenes for many years, a reputation that he proves time and time again with every performance. He is the Rock of Gibraltar, the unwavering gravitational pull that anchors the music and unites it with the Earth.
Despite the top-notch playing from all musicians on stage, Dayramir's original compositions were indeed the highlight of the concert. His writing is very much a nod to the compositional styles of Chucho Valdés, Chick Corea, along with hints of John Coltrane, McCoy Tyner, Woody Shaw and other composers of a similar ilk. His compositions posses an infectiously powerful groove, very African in nature with extended modal vamps and jagged rhythmic textures. He often favors odd meters with undulating bass figures and bold melodies that do indeed put the listener into a trance-like state. However, at the moment when one least expects it he interjects the piece with startling ensemble interludes that jar the listener out of hypnosis and back into reality.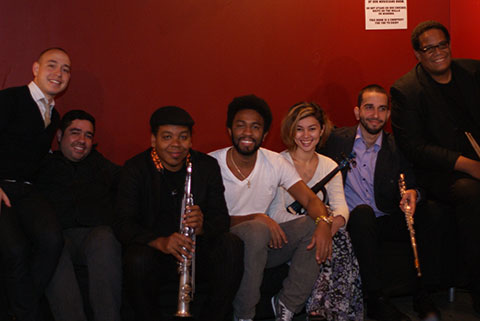 Dayramir González is undoubtedly a musician of maximum potential and a welcomed addition to the ever-growing community of excellent Cuban musicians in the US. He has a mature and holistic approach in which his piano playing, writing and overall group concept come together in a unified, congruent fashion. Hopefully, what was seen and heard at SOB's was an indication of what is to became a longstanding, indelible solo career.
---
October 17, 2013 - Peter Brainin at Fat Cat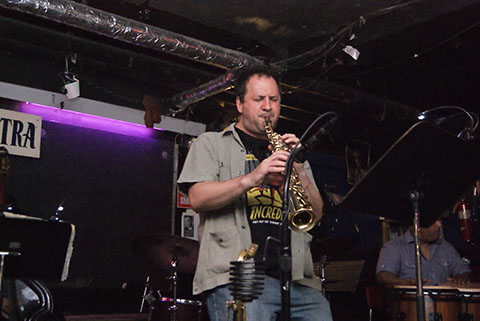 As if The Pedrito Martínez Group at City Winery wasn't enough for one night we ended up stopping by Fat Cat afterwards where we were able to catch the last set of Peter Brainin's "Latin Jazz Workshop" which included and all-star quintet consisting of Brainin on saxes, Adam Cruz on drums, Roberto Quintero on congas, Luis Perdomo on piano and the legendary Andy González on Ampeg Baby Bass.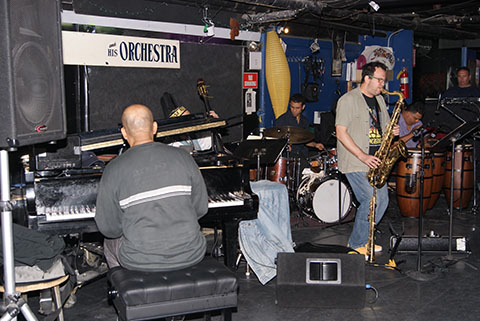 The set consisted of familiar standards including Clifford Brown's "Sandu" and Bronislau Kaper's "Invitation". However, despite the "tried and true" repertoire, the impeccable soloing, hypnotic groove and near telepathic interplay from these top-notch players was anything but commonplace. Luis Perdomo exhibited unmatchable rhythmic confidence as he wove sinuous lines that teetered between the boundaries of lyrical and percussive as well as provide supportive accompaniment in order for the other soloists to shine. Andy González's held the band together with almost monastic poise with compelling ostinatos that enabled the other members to fearlessly go in whatever direction they chose.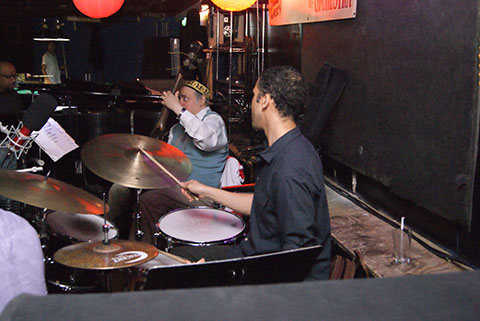 Indeed all five musicians were excellent, displaying a seasoned sense of maturity combined with a churning undertow of controlled intensity. The quintet possessed all the traits that define New York Latin-jazz: virtuosic, brooding, vivid and emotionally powerful. Most of all, the musicians at hand were equally comfortable in both idioms. The end result was music in which there was no need to question its validity, but rather to admire the wealth of substance it contained.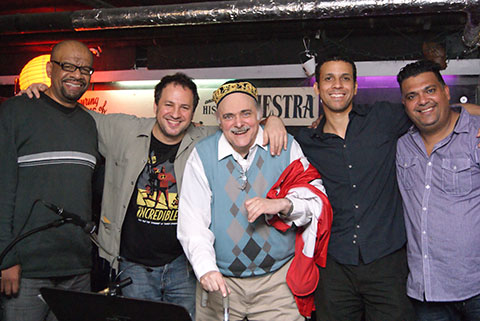 The set was splendid and all too brief, as the band had to give way to the next ensemble of the night. However, Brainin's ensemble holds a monthly residency at Fat Cat and with a door charge of only $3(!) there really is no reason not to provide this fine jazz outfit the attention they rightly deserve.
Tuesday, October 8th is further proof of the wealth of great music that occurs in this fine city on a nightly basis. From the loftiest venues to the city's alluring underground, NY is indeed a microcosm teeming with artistic life available to be seen by those willing to look.
all photos by Darwin Noguera
---
October 14, 2013 - Pedrito Martínez CD Release Concert Review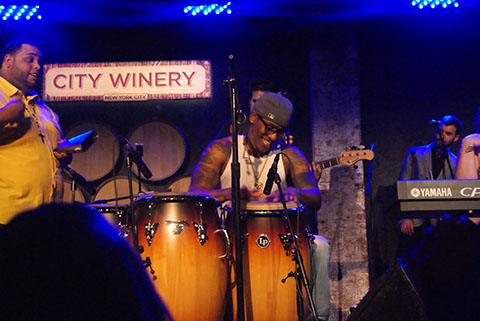 all photos by Darwin Noguera
Last week marked the first expedition for the newly formed NYC chapter of timba.com. Coincidently, it happened to be a week of performances conducted by some Gotham's finest delegates of salsa, Latin jazz and Música Cubana.
Our first stop on Tuesday, October 8th was none other than City Winery in Lower Manhattan where The Pedrito Martínez Group was holding a CD release party for their much-anticipated, eponymous studio album. Concert attendance was more than suitable with an eclectic demographic in which members of both New York's bohemian and aristocratic casts literally rubbed elbows with one another in the venue's tight seating quarters.
With a presence that was charismatic, engaging, challenging, and dangerously unpredictable, Mr. Martinez and his "four-piece powerhouse" were nothing short of superb. Pianist Ariacne Trujillo, percussionist Jhair Sala, bassist Alvaro Benavides and the multi-talented Pedrito Martinez were in peak form throughout the evening. The band was the picture of synchronicity with all four members simultaneously juggling intricate instrumental passages and four-part vocal harmonies with surgical precision. The flexibility of this quartet really must be heard in order to believe, with a sense of familiarity with the material and one another that allows them to turn on a dime at a moment's notice.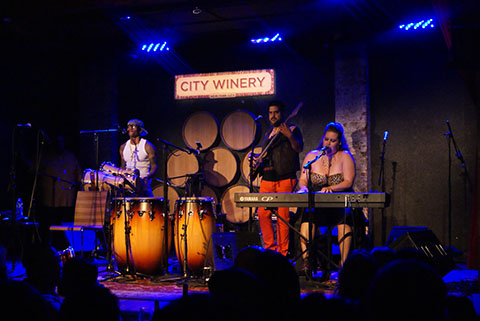 As one would expect, most of the night's repertoire was selected from the album. "Memorias", "Lengua de Obbara" and "La Luna" along with English-sung numbers such as "Traveling Riverside Blues" and "I'll Be There" rounded out some of the setlist. However, the concert had many spontaneous twists that involved a slew of guest woodwind players that included Itai Kriss on flute, Anat Cohen on clarinet and the great Cuban saxophonist Luis Faife. Each bestowed notable contributions to the evening with lyrical and poignant solos. Other guests of the night included Gary Schreiner who played a stirring harmonica solo on "I'll Be There" as well as many appearances by the omnipresent rumba-sage Román Díaz who brought an appropriate mix of "mystique and longue 'n cheek" to the show.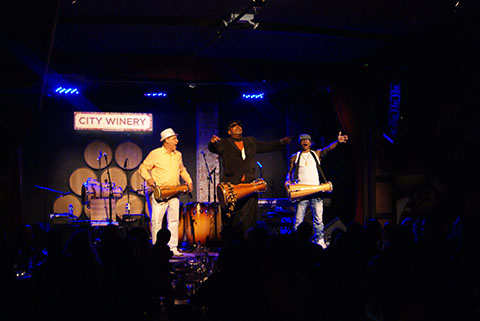 Overall, the band had the audience spellbound from the moment the music started and the complete ebb and flow of the concert could not have been timed better. In fact, maybe the biggest surprise of the night was when the music stopped, the audience looked at their watches and realized they had been captivated by nonstop music for two and a half hours without even a second thought. In all, The Pedrito Martinez Group is a beacon of hope to all true music fans out there. With their wealth of ability, energy and originality, the four members demonstrate singlehandedly that even in this world of overly produced, often-trite material, music of genuine content ultimately prevails in the end.
Kevin Moore - lunes, 21 junio 2021, 06:56 pm