New Stuff
[hide]
Photos of the Day
[hide]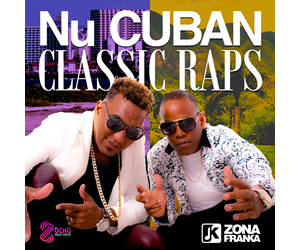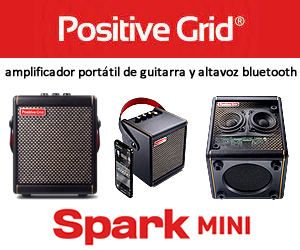 Luis Bu Pascual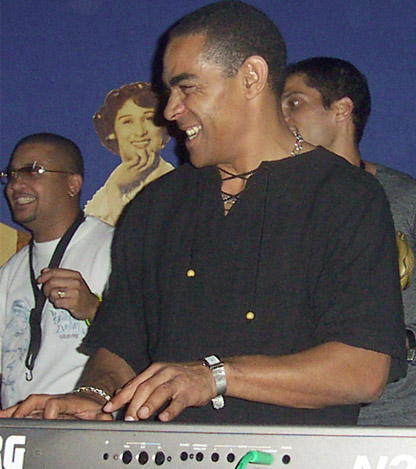 intrumento/instrument: teclado/synth; piano; arreglista/arranger
grupos/groups: Manolín, el Médico de la Salsa; Clave Ocho; Los 10 de la Salsa
grabaciones/recordings: Manolín: El puente: Live in the USA, Manolín: Jaque mate, Manolín: De buena fe, Manolín: Para mi gente, Manolín: Una aventura loca
lugar de nacimiento/birthplace: ?
formación musical/musical background: ?
lugar actual de residencia/current residence: Miami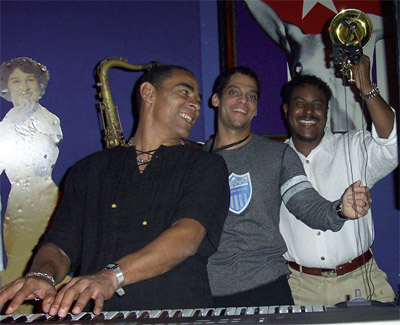 with Guillermo Roig and William Polledo
While not as famous as El Médico, Issac Delgado, or Paulito FG, Luis Bu Pascual is an immensely important figure in the history of Timba music. Like Charanga Habanera's Juan Carlos González, he was fascinated by American R&B, such as Earth, Wind & Fire, and set out to create a new type of Cuban music which incorporated such influences. Each man came up with a drastically different, but equally exciting new style of music.
Bu's musical collaborations with Manolín resulted in a string of hits, such as Somos lo que hay, Te conozco mascarita, Me pasé de copas, and Jaque mate, which captured the imagination of the Cuban public, making El Médico de la Salsa the most popular act in Cuba for an extended period of time.
Luis Bu is now living in Miami, and is still playing and arranging for Manolín, as well as other groups. That's how it goes in the good old US of A...each musician winds up playing with a handful of different groups, resulting in less rehearsal time for each. As such, the Manolín group is Miami is an extremely interesting test of whether true Timba can survive outside of La Habana. We're hoping the answer is yes, and eagerly awaiting the next arrangements of Luis Bu & Manolín. [Kevin Moore]
Michelle White - Tuesday, 22 March 2011, 07:31 PM