New Stuff
[hide]
Photos of the Day
[hide]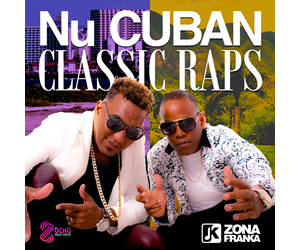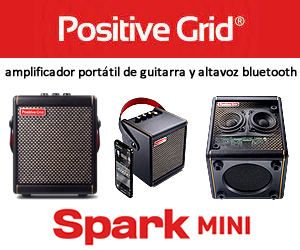 Carlos M. Calunga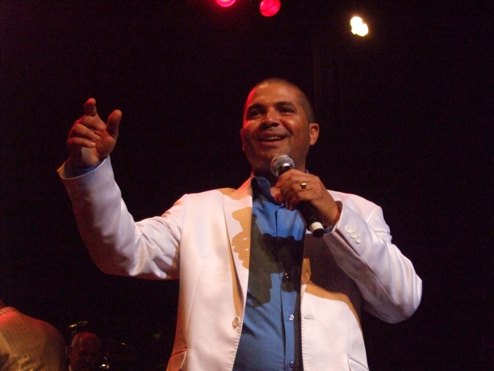 Photo courtesy of Gabriel Wilder Yemaya's Verse
instrumento/instrument: voz/voice
grupos/groups: Manolito y su Trabuco, Klímax
grabaciones/recordings: Manolito y su trabuco: Hablando en serio, Manolito y su Trabuco: Se rompieron los termómetros, Klímax: Oye como va, Klímax: Concierto Eurotropical, Klímax: Juego de Manos
lugar de nacimiento/birthplace: Holguín, Cuba
formación musical/musical background: autodidacta/self-taught
lugar actual de residencia/current residence: La Habana
¡escúchalo! Catarro chino from Concierto Eurotropical
Although he had no formal musical training, Carlos Calunga also spelled (Kalunga depending on the singer's mood) comes from a musical family. His father played guitar and his mother sang and his siter, cousin and uncle were also involved in music.. Most lead singers tend to have higher voices, but Calunga is one of only a few who fall into the extremely rare category or "true tenor". He can effortlessly soar to a high C and goes even higher at times.
Calunga's first break as a singer was in a contest of soneros on Cuban television where he sang a song made famous by Charanga Habanera -- Giraldo Piloto's "Mi Estrella". He won Sonero del año and although there was no prize to go with the title, among the judges at that contest was Manolito Simonet who was finally able to lure Calunga away from his first band, Klimax, in 2001. His first song for the Trabuco, "Linda melodía", was a big hit in Havana.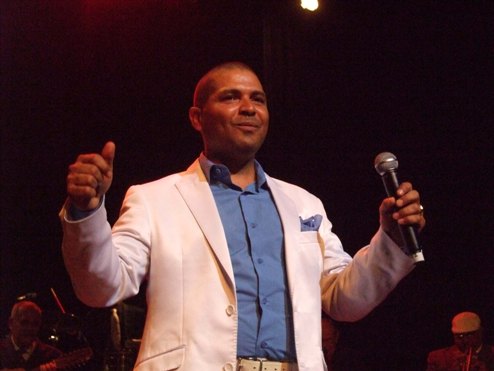 Photo courtesy of Gabriel Wilder Yemaya's Verse
With Klimax he was the lead vocalist on many of Piloto's most gorgeous compositions, including "Aún Así", "Juego de manos", and "Te confunde ser esa mujer". He also took over the lead vocals on the earlier hit "Catarro Chino" and his live version on Concierto Eurotropical is one of most exciting Timba tracks ever recorded. At one point he paraphrases the guías from the original studio recording, taking them up not a third, as one might expect, but a full fourth, with spine-tingling results. Here's an excerpt from the original studio recording, sung by Alexander Díaz, now with Issac Delgado. Catarro chino from Mira si te gusta, and here's Calunga's live version: Catarro chino from Concierto Eurotropical. While you're at it check out the devastating Timba basslines laid down by Roberto Riverón. [Kevin Moore]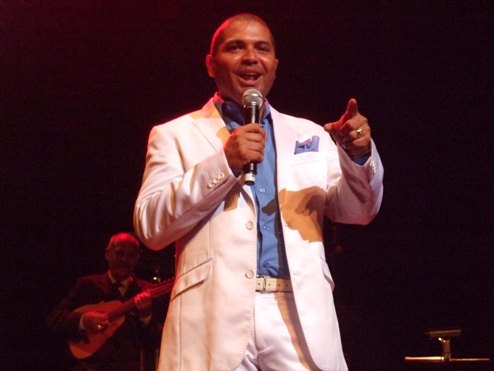 Photo courtesy of Gabriel Wilder Yemaya's Verse
Calunga is currently touring with Buena Vista Social Club and continues to collaborate with Manolito singing coro as well as one of the lead vocals on "El Canto" on the "Hablando en serio" CD.
Michelle White - Sunday, 08 November 2020, 11:03 PM