Indice - Table of contents
New Stuff
[hide]
Photos of the Day
[hide]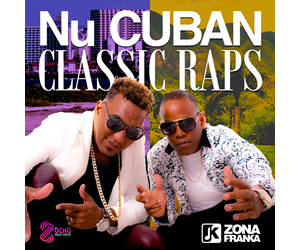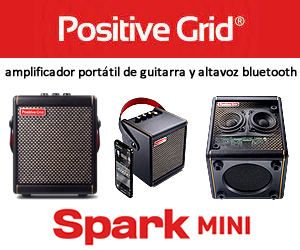 Entrevista - Joel Domínguez - 2002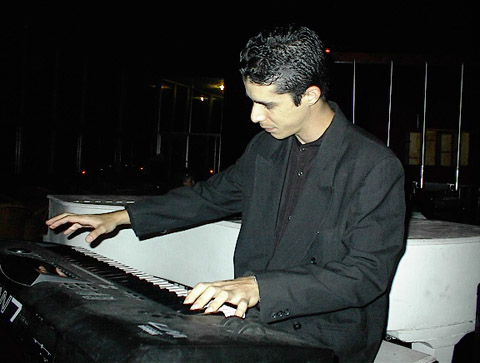 por Kevin Moore ©2002
Joel Domínguez Campos, like Melón González, Juan Ceruto, and Luis Bu, is not as famous as Issac Delgado, Paulito F.G. or El Médico de la Salsa, but he's played an equally important role in the explosion of musical creativity that we call Timba. Everyone knows that Issac's "La Fórmula" was nominated for best song in the 2001 Latin Grammies, but only diehard readers of liner notes know that the powerhouse arrangement was written by Joel Domínguez. Timberos everywhere agree that Paulito's "Con la Conciencia Tranquila" is one of the 5 best Timba albums ever made, but not so many can name the architect of its powerful basslines.
Joel Domínguez played bass in Paulito's best band, and was bassist/musical director for both Issac Delgado Manolín. He's also played, written and arranged on albums by D'Talle, Osvaldo Chacón and others. He currently lives in Spain, but there's talk that he may get involved in the rapidly growing Miami Timba scene.
We caught up with him by email in late 2001 for Part I of an interview we hope to continue in the future. We'll have an English translation soon.
TIMBA.COM: Aunque solo tienes 27 años, dominas varios instrumentos (el contrabajo, el teclado, la guitarra y varios instrumentos de percusión) como un verdadero virtuoso. ¿Nos pudiera contar un poquito sobre tu niñez musical? ¿Hubo otros músicos en tu familia? ¿Ha que edad te dió el deseo de ser músico?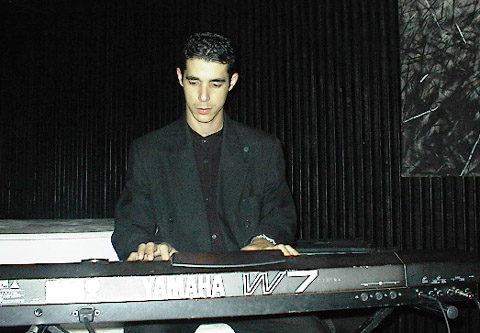 JOEL DOMÍNGUEZ: En mi familia ha habido poca tradición de músicos a pesar de que mi padre cantó en un coro cuando era muy joven, pero no siguió en ello mi madre es muy afinada y desde muy pequeño siempre me cantaba boleros muy antiguos que nunca más he olvidado, también mi abuelita materna solía cantarme cuando era pequeño, estas son recuerdos que conservaré mientras viva con mucha ternura, el deseo de ser músico creo que nació conmigo, desde pequeñito, apenas tenía seis años y mis padres me compraron una guitarra de juguete y yo me sentaba todas las noches frente a la televisión y me ponía a imitar a los artistas, siempre que alguien me preguntaba que quería ser yo en el acto respondía, quiero ser músico profesional.
TIMBA.COM: Cuéntanos de tu educación musical. ¿Cuál fue tu primer trabajo profesional como músico?
JOEL DOMÍNGUEZ: A la edad de 8 años mi abuelita materna que es mi vida me llevó a la Casa de cultura Manuel Corona de Caibarién en la provincia de Villa Clara lugar donde nací y pasé mi infancia y me hicieron unas pruebas de captación y comencé a estudiar guitarra, allí comencé mi formación en un grupo aficionado llamado Motivos de Son,entre otras cosas aprendí a tocar el contrabajo y el piano, luego a la edad de catorce años comencé en la escuela de superación profesional y artística de Santa Clara,donde comencé a estudiar en serio. Allí forme parte de una agrupación profesional llamada los pirámides, la misma fue fundada hacía muchísimos años en Caibarién y en ese momento radicaba en Santa Clara, todo surgió porque fueron a buscar a mi profesor Lázaro para que fuera para dicha orquesta y el les dijo que en esos momentos no podía y yo me ofrecí para que me probaran y con solo 14 años comencé a trabajar con ellos y tuve que llevara la escuela y el trabajo a la par.
Tuesday, 22 March 2011, 07:32 PM