Lo Nuevo
[hide]
Fotos Del Día
[hide]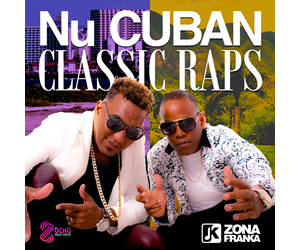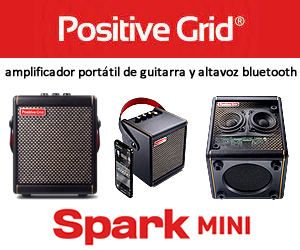 Calixto Oviedo y La Recompensa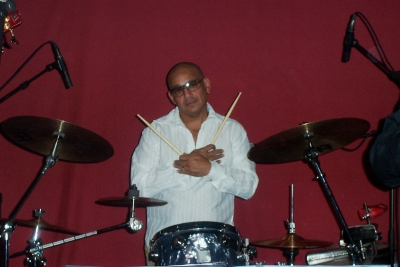 Calixto entrega su corazón a sus fanes
Stockholm's last big concert of the year featuring Calixto Oviedo y su orquesta La Recompensa was held at the jazz club Fasching. This is one of those very small and intimate venues which allows for a lot of interaction between the band and the audience. In addition to his fans, Calixto has many friends in Stockholm, so the atmosphere was very relaxed and more like a party among friends than a 'concert'.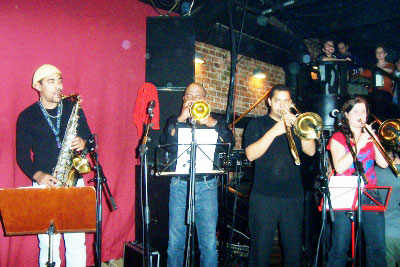 A horn section so good it'll make you cry
What can you say about the band? They are excellent. Calixto has assembled a group of musicians that is as tight as you could want. But in addition they dance and sing and display an energy and excitement that is contagious. As one of the fans put it: "They are so good it almost makes me cry".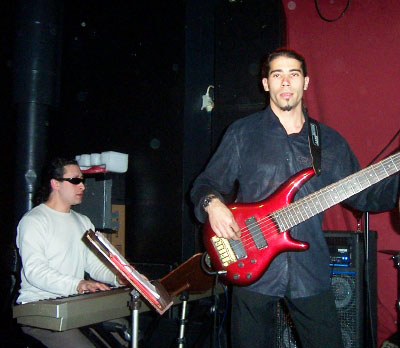 Yasser Morejón on bass and Hernan Lugano on piano
The singers Lily Hernández and Ernesto Manuitt were a pleasure to watch on stage. They are both very relaxed and the interaction between them is a lot of fun.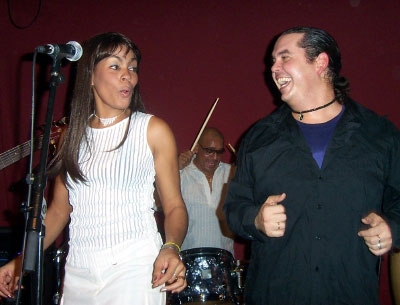 Lily, Calixto and Ernesto
Guest singer Cristina Azcuy performed a hot version of El Cuarto de Tula. I couldn't help but think about Yulién Oviedo playing timbales on El Cuarto de Tula for BVSC when he was 13.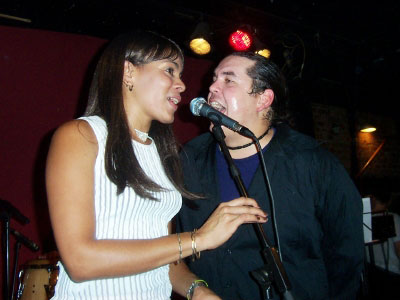 Lily and Ernesto singing coro on El Cuarto de Tula
The repertoire included almost every song from La Recompensa as well as a few that I didn't know. On the CD most of the songs are between 3-4 minutes long. But in concert they have added some really hot coros that satisfy timba lovers and despelote dancers alike. One of the songs they sang had a coro that went something like "el bueno pa' mí y el malo pa'llá", which after a while morphed into the coro from the NG La Banda classic Santa Palabra "¡despójate! - ¡quítate lo malo! - ¡échalo pa' trás! - ¡límpiate mi hermano!" complete with the choreography. Needless to say the audience loved it and sang along word for word.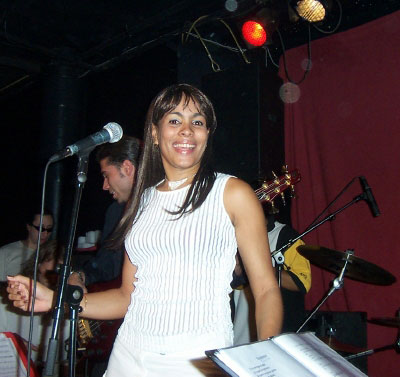 Lily Hernández
This was the first time I've heard Lily sing. She did a great version of Mambo Sato that had the entire audience dancing mambo. In addition to a great voice she has a dance style that is really nice to watch. And we timba fans know Ernesto from Klimax. He did a great job on all the songs including the fantastic glissando in Cuando yo sea grande. And they did an unbelievable version of Ódiame that had people in the audience crying out "¡Agua!".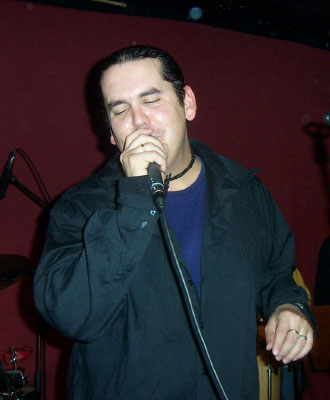 Ernesto Manuitt
Calixto did a 2 minute drum solo that reminded us all of why he has been nominated as one of the 5 finalists for both Best Timba Drummer and Best Timbalero. Much to the distress of the fans the performance had to end at 23.30 because of the schedule at the jazz club. So Ernesto introduced all the band members who each performed a short solo and Calixto started us singing a coro: "Si tú no sabes no metas", or something like that.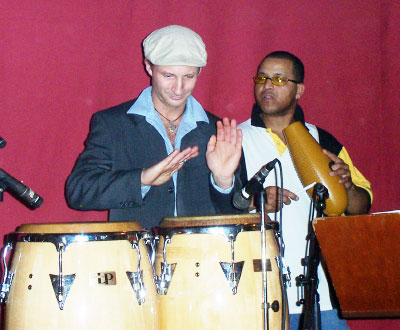 Peter Ehler doing his solo on congas
They ended the last set by singing La Recompensa and Calixto joined in singing lead for a while. And then Ernesto stepped down into the audience and led a conga line around the room which basically brought the show to a close.

Calixto singing La Recompensa
After the concert I spoke briefly with Ernesto. He said they are taking a break and will be heading for Italy, and I think he said Malta, in 2004. So keep an eye out for Calixto if you live in southern Europe!
martes, 22 marzo 2011, 07:31 pm