New Stuff
[hide]
Photos of the Day
[hide]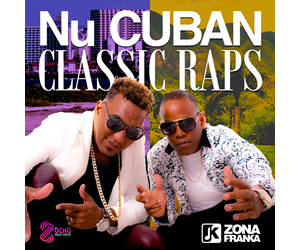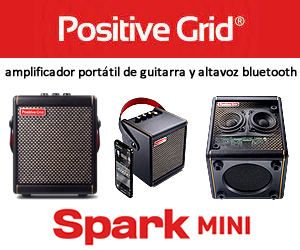 Limonta Interview - 2000 - Santa Cruz, California
conducted by: Bárbara Valladares
questions by: Kevin Moore
INTRODUCTION: Thank you for agreeing to do this interview! Many US fans of timba who haven't been able to visit Cuba rely on liner notes for most of their information, and the name of Lionel Limonta keeps coming up over and over again as the composer of some of the best songs by such groups as Charanga Habanera, Issac Delgado and Bamboleo, so everyone is very curious to learn more about you. On a recent trip to Habana, Kevin Moore was finally able to track you down, playing guiro as well as writing for and directing the new group Azúcar Negra, featuring the great vocalist Hayla Momprie, previously of Bamboleo. Kevin saw Azúcar Negra live 3 times and loved the group and the new material.
TIMBA.COM: Does Azúcar Negra have any plans for a US Tour?
LIMONTA: Azúcar Negra, the band which I direct, is currently working a tour to the U.S. this Spring.
TIMBA.COM: Are there plans for the release of a studio CD in the US and or Cuba? In Habana, Kevin was able to find a tape of 8 studio tracks by Azúcar Negra. What's the story behind those tracks? When were they recorded? What are the titles? Are all the songs written by you?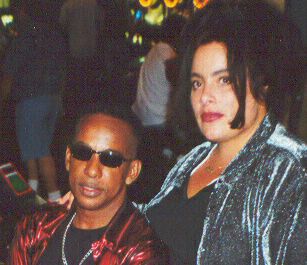 Limonta with Bárbara Valladares
LIMONTA: I wrote all of the songs. Existing plans include a CD recording at the end of the tour, which will include new songs as well as known songs. The eight tunes included in one CD you found in Havana were recorded in the studio to promote the group on radio. This occurred in 98 and 99. The song titles are:
Andar andando (Keep on Keepin' On)
Qué viva la vida (Long Live Life)
Eres como yo (You're Like Me)
Café con leche (Coffee with Milk)
Te triciono el subconciente (The Subconcious was Betrayed)
Vengo de estreno (I Come in Style)
Almas dizfrasadas (Disguised Souls)
Tratado de timba y salsa (Timba and Salsa)
TIMBA.COM: Tell us the story of how you got started in music, and especially in songwriting. What is your musical background? When did you start writing songs? Did you study at the ENA? And, if not, how did you go about studying songwriting?
LIMONTA: I have written since adolescence but I never studied music formally, although I have studied the musical scales on my own. I am an experimental musician and I compose as "natures work".
I began to compose seriously in 90 and in 93. I started with Charanga Habanera as composer/producer. My lyrics come from my own life stories for the most part, but I also sometimes create imaginary scenarios for my songs. I come up with the lyrics, music, coros, guias and sometimes the horn parts as well; the rest is added by the arranger. In Azúcar Negra there are 3 arrangers who work with me, Adalberto Dominguez (bassist for Azúcar Negra), Roberto Linares, and Andel Labori Furones.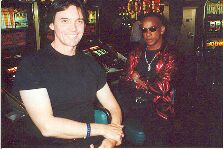 TIMBA.COM: Who were your early role models, some of your favorite songs when you were growing up, and whom do you consider your biggest influences overall?
LIMONTA: My role models in Cuba were Orquesta Aragon, Los Van Van, and Ritmo Oriental, and singers Issac Delgado, Juan Crespo Masa , Pacho Alonso and the greatest singer of all time, Beny Moré.
Kevin Moore w/Limonta
One of the songs that I listened to a lot in my childhood was "Earrings of the Moon", sung by Vicentico Valdes, the Cuban artist who influenced me the most. Early on it was Felo Bacallao of Orquesta Aragon and later Isaac Delgado. Non-Cuban groups who have influenced my songwriting are Gilberto Santa Rosa, Oscar D'Leon and Grupos Niche of Colombia.
TIMBA.COM: Here's a list of the great songs we've found that you've written:
CHARANGA HABANERA: Quitate el Disfraz, Nube Pasajera, Extraños Ateos
ISSAC DELGADO: Por la Naturaleza
BAMBOLEO: Yo No Me Parezco a Nadie, Si No Hablaras Tanto, Amor Sin Traspaso, Tu y Yo Una Misma Cosa, Pelicula Vieja, Mirando al Cielo, Con un Canto en el Pecho
Other than the new material for Azúcar Negra, have we left anything out?
LIMONTA: I also wrote 24 días on Issac Delgado's Otra idea, a song called "To Love You" which was recorded by DLG and Ritmo Oriental on the record Ritmo de la Ritmo, and Cúpido o de cazador a presa for Charanga Latina.
TIMBA.COM: Who is that spectacular lead trumpet player in Azúcar Negra? He has wonderful intonation, a big, pure tone, and an amazing high range.
LIMONTA: The trumpeter of whom you speak is from another group called Daniel Lozada y Timba Cubana.
TIMBA.COM: Tell us about the creative process when writing songs for other groups. For example, on the classic song Quítate el disfraz.
LIMONTA: Sometimes the creative process is motivated by having a goal but sometimes something happens that inspires me to write a song. This is what happened with "Quitate el Disfraz". In 1994 at Charanga Habanera concert at the Palacio de la Salsa a beautiful girl was touched by the effect of the music and the liquor and she began to disrobe and move very exotically and that stayed in my mind. This event was the inspiration for the story you now know of as "Quitate el Disfraz"
TIMBA.COM: Do you write the lyrics or the music first, or both together?.
LIMONTA: My style is to write the lyrics and music at the same time.
TIMBA.COM: What's the story on the famous Bamboleo breakup and how did this lead to the formation of Azúcar Negra?
LIMONTA: Regarding my decision to leave Bamboleo this was already in mind for me as the impatience that my work had to be administered and interpreted to my taste. When I aked for this this of course involves a petition quote of friends, family and the town. When I decided to part, Haila said "I'm going with you", and this is what happened. I thought of the name Azúcar Negra to sweeten the souls and to make life happy. It was not difficult for me to produce material for AN because the material is eternal and thanks to life and thanks to mother nature.
TIMBA.COM: Thank you again for the interview and we look forward to hearing Azúcar Negra in the US very soon!
Tuesday, 22 March 2011, 07:31 PM