New Stuff
[hide]
Photos of the Day
[hide]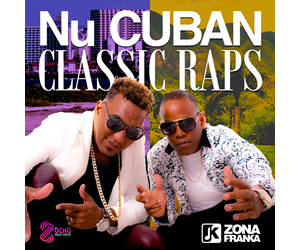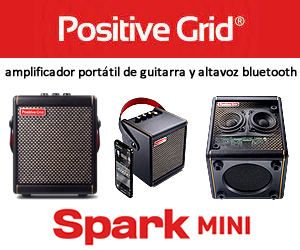 Review - La recompensa
Click here for Calixto's Home Page

2000 - Calixto Oviedo -La Recompensa - Since leaving NG, Calixto Oviedo has lived in Sweden for several years, but returned to Havana to record this disc at EGREM Studios. It might also make sense to include this CD in the Charanga Habanera section, as it has no less than eight current or former Charanga members playing important roles: timbalero Yulién Oviedo, sax/keyboardist Osmani Collado, trumpeters Carmelo Llanes and "Palmiche" Jiménez, current vocalists Aned Mota and Noel Díaz, and ex-vocalists Michel Maza and Tirso Duarte. Added to the mix is Aned Mota's famous wife, Haila Momprié, of Bamboleo and Azúcar Negra fame, and thought of by many as the heir to Celia Cruz. It also features four different members of Calixto's family. Child prodigy percussionist Yulién Oviedo has played professionally, recorded records, and performed on Cuban television ever since he emerged from the cradle. Now an elder statesman of Timba at the age of 17, he played timbales, sang, danced and choreographed for La Charanga Habanera for several years before going on the road last year to play concerts with his father and with one of the lucrative spinoffs of the Buena Vista Social Club phenomenon. In one of his timba.com interviews, Charanga leader David Calzado said of Yulién "I think he is without doubt a genius of Cuban music". All of the percussion on the CD is overdubbed by Calixto and Yulién. For the most part Yulién plays congas and Calixto plays everything else, but on the two songs sung Michel Maza, Yulién plays timbales and Calixto plays congas. Calixto plays all of the bongó, campana and minor percussion parts. This album has many interesting parallels to Wickly's. Both are by legendary ex-NG percussionists; both have a track called "Rumbero de Corazón" (although they're different songs!); and both feature the idea of the great percussionist overdubbing himself to create a virtual rhythm section. A difference in the approach is that Wickly's album is done with a click track and has only Wickly, overdubbed three times, whereas Calixto's isn't clicked and has his son Yulién playing one of the instruments, presumably along with him on the first take, with Calixto then overdubbing the rest. In both cases, the result is a very clean and satisfying Timba groove, albeit without drumset except for sparse use of the kick drum.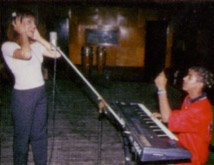 Calixto's CD opens with a short guaguancó, "Presentación", with a spoken voice-over by the youngest Oviedo, Yarién, setting the scene for an album that's very much a family celebration. This leads into "Cuando Yo Sea Grande", sung by the most famous ex-Charanguero, Michel Maza. All of the album's arrangements, as well as the piano, synth and sax parts are by Osmani Collado, who plays sax and teclado with La Charanga and has now taken over greatly increased creative responsibilities since Tirso's departure. Collado also wrote most of the songs, but this one and "Si tú no estás", sung by Calixto's wife Nina, are by Augusto Enríquez. In spite of the presence of so many Charangueros, this is frequently a very sweet and gentle album, especially the Enríquez compositions which could practically be from a Walt Disney movie. Nina has a soft, angelic, childlike voice which is mixed strongly in the coros adding to the Disney effect. The other coristas are Noel Díaz, the high coro of Charanga Habanera, Tirso, and Calixto himself, but it's Nina's voice that defines the ethereal character of the coros. "Cuando Yo Sea Grande" is a very beautiful song, interpreted masterfully by Michel. The emotional peak comes at 1:39, when he soars up an octave with one of his trademark vocal glissandos. Unfortunately, like many of the tracks, it's in the three minute range and ends abruptly just where the Timbaphile is ready for the montuno section to kick into high gear. What there is of a montuno section begins at 2:09 with a pretty, but quite tame piano part which makes us wonder why Calixto didn't ask Tirso to invent some of his famous piano montunos as long as they had him on hand to sing! The other strange thing about this track is that the ending sounds chopped off. Nevertheless, one can't help but listen to the track over and over because of the songwriting and Michel's great singing. "Ódiame" is an old Cuban standard, modernized and sung by Aned Mota, one of the current Charanga singers. This one kicks into some serious Timba at 2:04, one of the few places that a kick drum is used to any great extent. There's no snare, as is typical in the Charanga Habanera percussion style, but what seems unthinkable is the total absence of a hi-hat on an album by the God of the hi-hat himself, Calixto Oviedo! Sin embargo, "Ódiame" is a very hot track. After the wicked timbal roll at 2:10 Aned sings some funky and very Charanga-esque guías. Again, the song ends way too soon after only three and a half minutes.
Klimax fanatics will find their heart rates increasing when the see the title of the next track, "Una Corazonada", but rather than a cover of the monumental Klimax song it's a new, original instrumental by Osmani Collado. The opening horn line, which is repeated twice, turns out to be the head of minimalist Jazz composition with an unusual length of only 5 bars! The structure is not unlike some of Miles Davis' compositions of the late 50's. Osmani has a long ways to go to catch up to Tirso in terms of creating brilliant timba montunos, but he's no doubt a versatile and extraordinarily talented musician.The jazz piano solo on this track, by Helder Rojas, Tirso's successor in Charanga Habanera,is excellent. We had to rewind about 20 times to savor the beautiful sequence of syncopated piano licks at 1:17. At 2:09 he switches to his main instrument, saxophone, and plays a short solo which is followed by a bass solo by the omnipresent ""first call" studio bassist Roberto Riverón, who recorded all of Klimax's CD's as well as part of Issac's "La Fórmula" and Ceruto's "A Puerto Padre". Osmani also wrote "Mambo Sato", sung by the great Haila Mompié, who sang with Bamboleo and Azúcar Negra as well as on a new tribute to Celia Cruz produced by Ceruto and Issac Delgado. To add to the family theme of this CD, Haila is also the wife of Aned Mota, who sang the second track. Their first child is only a few months old, but will probably be in the recording studio before the end the decade! While the Mambo rhythm doesn't hold a lot of thrills for the hardcore Timba enthusiast, this one is as good as any we've heard. The song is very well-written and Haila sings the heck out of it.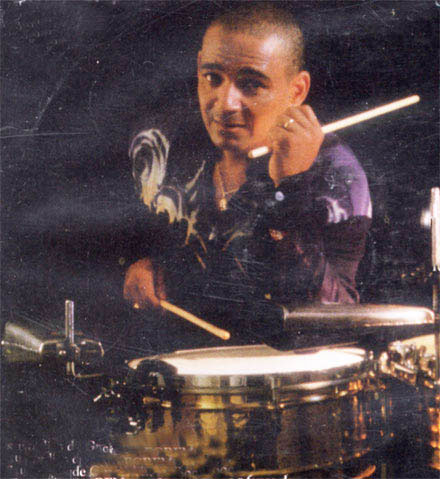 "Timbero", sung by Tirso Duarte, is a guaguancó, but with a pretty pop song built over it. On first hearing, you might mistake Tirso for his favorite singer, Mayito Rivera of Van Van, but he has his own distinctive phrasing which stands out more and more as one gets used to it. One of the best things about Tirso's guías is the accuracy and creativity of his choice of notes. You can write his guías out and play them on piano and they sound great as melodies. "Cristina" is intrumental Collado composition with a Danzón feel and his "Por Qué te vas de mi Vida" is the other Michel Maza vocal, this time giving Maza more time to stretch out and also featuring Collado on piano and sax solos. Calixto's wife Nina sings "Si Tú no Estás", another soft but very pretty pop tune by Augusto Enríquez. "Rumbero de Corazón", by Collado, is not the same song as the title tune of Wickly's CD, but like its namesake, it's the hottest track on the album and features a great percussion solo, although in this case by Yulién Oviedo. The song is much more than a descarga vehicle; the horns and coros are great an it's the hardest-driving Timba on the disc with great piano playing from Osmani and more inspired singing from Tirso. The last tune, the title track "La Recompensa", features all the singers, and solos from both Yulién and Calixto. All in all, while not a major Timba milestone, this is a fun and very listenable album featuring a cast of all-stars from the Oviedo family, the Mota family and the Charanga Habanera family, and also an introduction to the composing and arranging talents of Osmani Collado who will be playing a much larger role in the future of the newest incarnation of Charanga Habanera. If you're not already familiar with the work of the participants we suggest you start with middle period NG La Banda (Calixto), Bamboleo's second CD and Azúcar Negra (Haila Mompié), Charanga Habanera's "Pa' Que Se Entere de La Habana" and Tremendo Delirio (Michel Maza) and Charanga Habanera's "Charanguero Mayor" (Tirso, Yulién, Aned, Osmani & Co.), but if you're already a fan of any or all of them, we think you'll love this disc.
(special thanks to Bárbara Valladares, of Chámbo, for help on this section)
Tuesday, 22 March 2011, 07:31 PM