Lo Nuevo
[hide]
Fotos Del Día
[hide]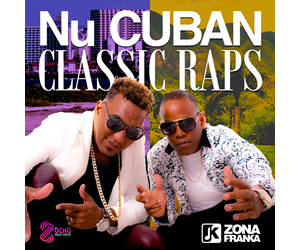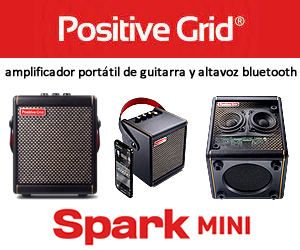 Eduardo "Chaka" Nápoles Burgos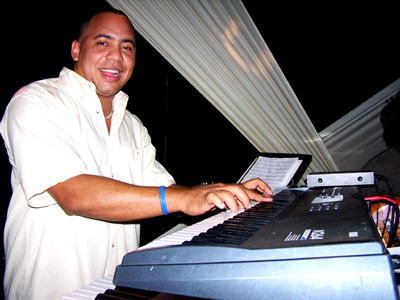 Hoy Como Ayer, July 2005
instrumento/instrument: piano; bajo/bass
grupos/groups: El Tumbao (director musical), Elain, Acheré, Tropicana All-Stars, Albita, José "El Canario", Rey Ruíz , Luis Enrique, Manolín, Clave 8, Miami Dan Den, Colé Colé, Iyakarey
grabaciones/recordings: Vanessa Formell: Yo Soy, Albita: Albita Llegó, Manolín: El puente: Live in the USA, Manolín: Jaque mate, Manolín: De buena fe, Manolín: Para mi gente, Manolín: Una aventura loca , Luis Enrique: Transparente
lugar de nacimiento/birthplace: Santiago de Cuba
formación musical/musical background: Escuela Nacional de Instructores del Arte (ENIA)
lugar actual de residencia/current residence: Miami
Manolín has a number of catch phrases: "¡camina!", "¡los chamacos!", "a la batalla!", "¡fiesta!". But my personal favorite is "¡¡CHAKA!!", because it always signals the entrance of a new piano tumbao and Eduardo "Chaka" Nápoles is one of the true masters of the exciting new art of Timba piano playing. Like his colleagues Melón, Tirso, Noroña, and Rolando, he works on each "montuno", as we Americans call them, until it's a unique miniature composition, with its own special hook. His impeccable technique allows him to play much cleaner than most pianists while still maintaining an exciting element of improvisation, modifying his repeated tumbao slighly each time to respond to the percussion and guías. I'll never forget my very first night in Cuba, standing directly behind Chaka at the famous La Cecilia nightclub, with my jaw never leaving the ground the whole time.
Chaka started his professional career as a bassist with Colé Colé, a band led by the father of Manolín's current bassist, Andy Gola. His primary influence as a bassist was Feliciano Arango of NG La Banda.
As a pianist, Chaka lists his main influences as Miguel "Pan con Salsa" Armas and Peruchín of NG La Banda, his favorite group. He also admires Iván "Melón" González, Tony Pérez, and Pupy Pedroso.
Chaka has now lived in Miami for several years, is taking English classes, and, like a typical American musician, he plays in every band in town. After Manolín and Albita left Miami in early 2005, Chaka started his own group, El Tumbao. Along with Wickly (NG conguero), the group is the house band at the once again reincarnated Café Nostalgia, where work with original material as well as covers of favorite timba hits. He also continues with other projects like Acheré (Luis Bu's new group), Vanessa Formell, and the timbafied band of salsa star Luis Enrique.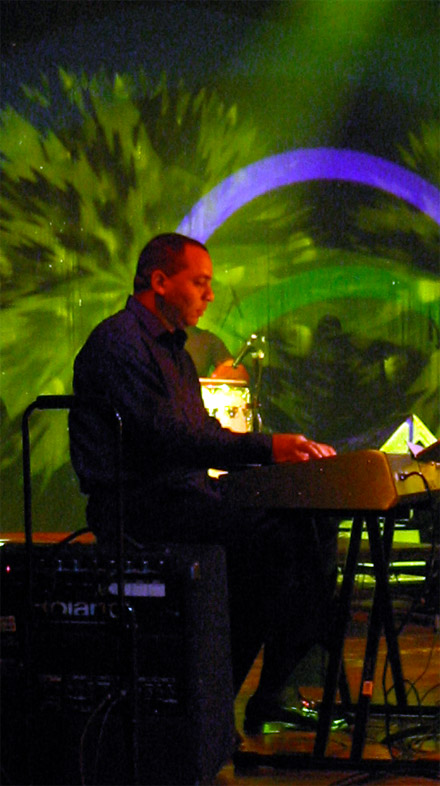 With Manolin - Tropigala, Miami - May 2002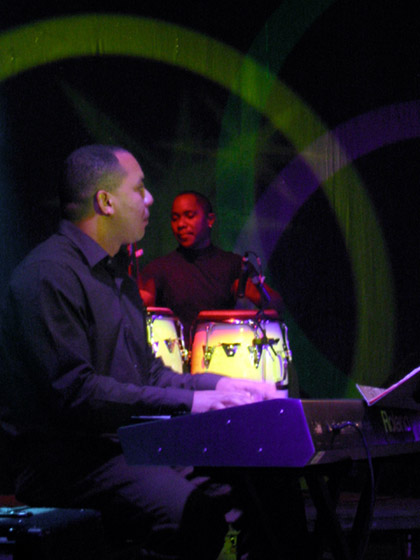 Chaka & Tomás Cruz w/Manolín - Tropigala - May, 2002
Michelle White - martes, 22 marzo 2011, 07:31 pm